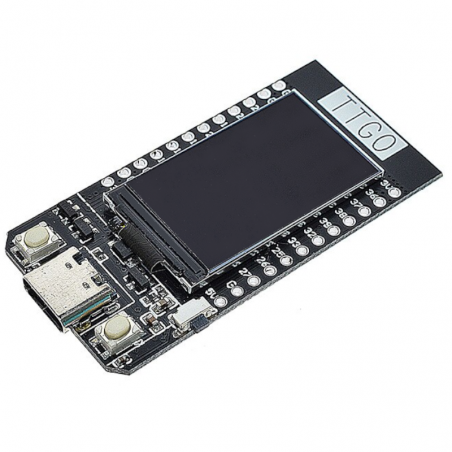  
TTGO ESP32 w/ 1.14 Display USB C
Compatible with arduino IDE 4MB and driver CH9102
* USB-C
If you have any questions on this product please feel free to contact us.
*Disclaimer: The images are merely illustrative.
Features:
1. Easy to Use: 1.14 inch colorful LCD display equipped to meet your requirements; Simple installation and operation ensured.
2. Low Power Consumption: Efficient and energy-saving design; Battery powered charging circuit added.
3. Practical, Convenient: Designed with customized button to bring you more convenience in actual use.
4. Wide Application: It can be used for Arduino and for IOT; Sustainable for long time use.
5. Long Service Life: To reach a time-proof long-lasting lifespan, we used top-rated rugged and durable raw material for this board.
Specifications:
Item:TT-GO T-Display ESP32 WiFi for Bluetooth Dual Module

Color:Black

Display:1.14 inch colorful LCD display

Application:For Arduino, for IOT

Voltage:3.7V
You might also like