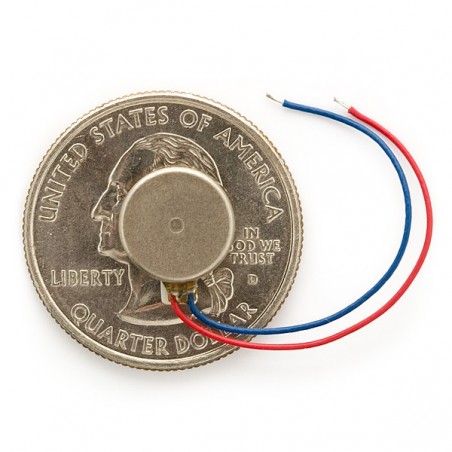  
Vibration Motor - ROB-08449
Specifications:
Rated Voltage: 3.0Vdc
Rated Current: 60mA máx.
Rated Speed: 13000+-3000rpm
Direct Current Resistance: 33/65ohm (+-20%)
Starting Voltage: 2.0Vdc
Wire Spec: AWG32 UL1571
If you have any questions on this product please feel free to contact us.
*Disclaimer: The images are merely illustrative.
Description: 
A vibration motor! This itty-bitty, shaftless vibratory motor is perfect for non-audible indicators. Use in any number of applications to indicate to the wearer when a status has changed. All moving parts are protected within the housing. With a 2-3.6V operating range, these units shake crazily at 3V. Once anchored to a PCB or within a pocket, the unit vibrates softly but noticeably. This high quality unit comes with a 3M adhesive backing and reinforced connection wires.
Specifications:
Rated Voltage: 3.0Vdc
Rated Current: 60mA máx.
Rated Speed: 13000+-3000rpm
Direct Current Resistance: 33/65ohm (+-20%)
Starting Voltage: 2.0Vdc
Wire Spec: AWG32 UL1571
Documents:
You might also like