Back

Menu

Arduino + Raspberry + Micro:bit

Comunication + IOT + Smart Home

Power Sources and Renewable Energy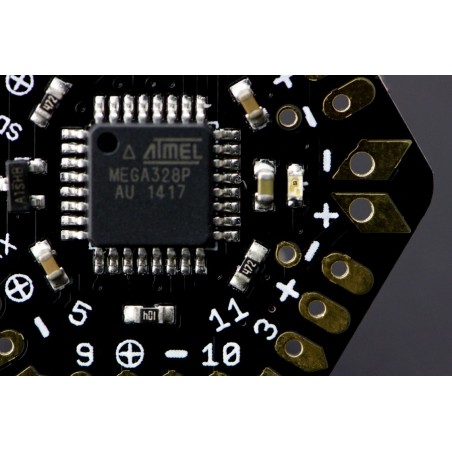  
μHex - Low Power Controller
μHex is the first low-power controller which is compatible with Arduino. It is very suitable for the battery power supply environment. A 210mAh CR2032 cell battery could make it work 60 days long.
Microcontroller: ATmega328P
As it is using Atmega 328 Microcontroller, it has good general and powerful performance. It packs 14 GPIO and 7 power ports (4 of them could be controlled) which could suit most of your project requirements.
Designed by maker Leo Yan.
Note:
Bootloader is write protected, please do not attempt to update Bootloader.
For large load applications (such as motor controlling), please connect VCC & GND directly or supply with independent power.
Hexagon design, compact size with 14 IO ports and 7 power ports
4 switchable power supply interfaces to reduce power consumption
Two sleep-wake interfaces for convenient interactions with surrounding
Designated Arduino development libraries
Cross design in power and IO interfaces, directly supports 3 pin/4 pin sensor/actuator
Large welding plate design
2.54 mm standard spacing plate
Microcontroller: ATmega328P(board type: Arduino Pro or Pro Mini (3.3V, 8 MHz) w/ ATmega328 )
Operating Voltage: 2.7 - 5V 
Clock Frequency: 8MHz (RC) 
Sleep Current: 0.12uA@3V3, 0.16uA@5V (watchdog OFF)
Flash: 32 KB ( 0.5KB for bootloader) 
SRAM: 2 KB 
EEPROM: 1 KB
Digital I/O Pins: 14 (PWM: 3,5,9,10,11)
Analog I/O Pins: 6 
UART Interface: 1 
I2C Interface: 1 
Interrupt interface: 2
Solder Pad: 2mm/2.54mm
Power in port: 1
Power out port: 6 (4 of them could be turn-off)
Maximum Current: 2A
Dimension: 28 x 31 x 2.3 (mm)
Weight: 10g
You might also like