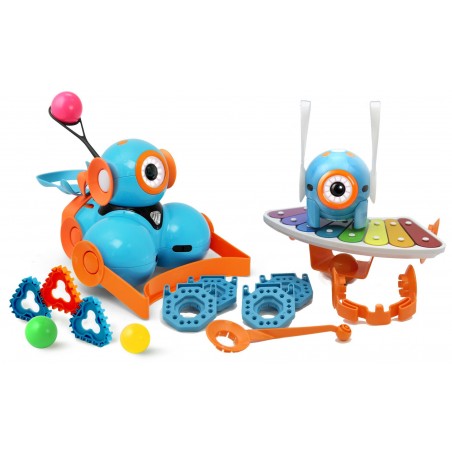  
Wonder Pack - Dash and Dot Robot Edu Pack
Pair of robots that combines playing and learning for children of 5 and up
Able to sense their environment and wirelessly programmable
Move, glow, make sounds and interact with each other
Fully assembled and ready to play
Includes Dash and Dot robots and accessories
If you have any questions on this product please feel free to contact us.
*Disclaimer: The images are merely illustrative.
The Wonder Pack is a customer favorite. It comes with our award-winning Dash and Dot robots, as well as, six of our accessories. This exceptional value pack will spark creativity and encourage kids to use their imagination while helping them develop problem-solving skills.
This pack includes:
1 - Dash robot
1 - Dot robot (blue)
1 - Launcher for Dash
1 - Xylophone for Dash
1 - Accessories Pack for Dash and Dot
1 - Building Brick Extenders
1 - Set of rabbit ears and tail
The Wonder Workshop Dash and Dot Robot Pack (Wonder Pack) are capable robots that can sense their environment and can be programmed wirelessly using a touch device. The Dash & Dot are designed to be fun at your home and in a child's play room. The combination of sensors on these robots, the child friendly programming tools on touch devices, and the design of the robots makes it fun and easy for kids (and grown ups) to do several activities with robots that would have seemed impossible until now. They can move, glow, make sounds and interact with each other. This dynamic duo can do anything you set your mind to.
Dash
Dash has two drive wheels and a balance caster that enables it to drive forwards, backwards, spin, and move almost anyway. Dash's head can move relative to the body, both pan and tilt, and the 12 LEDs in the eye can be programmed independently to create. You can customize Dash's personality by changing the color of the side headlights, the eye animation and greetings. Dash's IR sensors allow it to sense how far away an object is in front or behind it.
Dot
Dot's eye can be programmed to different patterns, just like Dash's. In addition, Dot's eye can be programmed to take a color. Dot has an accelerometer that helps detect when Dot is moved, shaken, tilted, rotated, dropped, and so on. These gestures can be used to program any other robot (or even used in conjunction with other devices). Dot can be used as a remote control to guide Dash along.
Features
Compose, loop, and play tunes while driving around
Visual, hands-on programming
Endless creative possibilities
Building brick connectors
Note: Use a supported iPad (iPad 3+, Mini, Air) to access free Wonder Workshop apps that control Dash. Limited Android support.
Specifications
Standby time: Up to 30 days (Dash, Dot)
Battery: Built in rechargeable lithium ion
Charging: Via Micro USB to computer system or power adapter
Connectivity: Bluetooth Smart 4 / LE
Maximum speed: 3.3 ft/sec (Dash)
Head rotation (Dash): 25° (up), 10° (down), 120° (left), 120° (right)

Play time
Dash: Up to 5 hours
Dot: Up to 3 hour
Play requirements
What you need to play:
Robot
Compatible device with Bluetooth Smart 4 / LE
Compatible devices:
Apple iOS
Tablets (iOS version 7.1+): iPad 3, 4; iPad Mini 1, 2, 3; iPad Air 1, 2
Phones and more, note that only Go app is supported (iOS version 8.1+): iPhone 5, 5C, 5S, 6, 6 Plus, iPod Touch 5
Android
Tablets, note that only Go and Blockly are supported (Android version 4.4.2+ KitKat): Galaxy Note 10.1; Galaxy Note Pro 12.2; Galaxy Tab 3 8.0, 10.1; Galaxy Tab 4 7.0, 8.0, 10.1; Galaxy Tab Pro 8.4; Galaxy Tab S 8.4, 10.5; Nexus 7, 9
Phones , note that only Go app is supported (Android version 4.4.2+ KitKat): Galaxy S4, Galaxy S5s
Dimensions
Dash
Size: (L x W x H): 170x182x161mm
Weight: 800g
You might also like