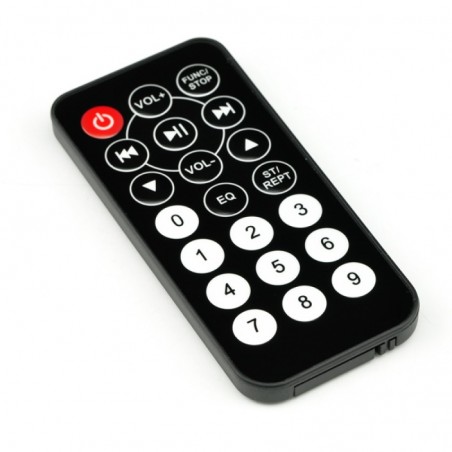  
If you have any questions on this product please feel free to contact us.
*Disclaimer: The images are merely illustrative.
Description

:
Remote controller has 21 buttons numbers. (0-9, power, volume, etc);
Using high-quality environmental button batteries CR2025 (not included), capacity is up to 160mah;
Transmission Frequency: 38KHz;
Launch Distance: More than 8m (It depends on the surrounding environment, the sensitivity of receiver and other factors);
Effective Angle: 60 degrees;
Sticking Material: 0.125mmPET, the valid life is 20,000 times;
Static Current: 3-5uA, Dynamic Current: 3-5mA.
The Key Value of the 21 Buttons:
Red Button ------- 0xff00
VOL + ------------- 0xfe01
FUNC / STOP --- 0xfd02
Left 2 Triangle --- 0xfb04
Pause -------------- 0xfa05
Right 2 Triangle -- 0xf906
Down Triangle --- 0xf708
VOL- -------------- 0xf609
Upward Triangle - 0xf50a
 0 -------------------- 0xf30c
EQ ----------------- 0xf20d
ST / REPT ------- 0xf10e
1 --------------------0xef10
2 --------------------0xee11
3 --------------------0xed12
4 --------------------0xeb14
5 --------------------0xea15
6 --------------------0xe916
7 --------------------0xe718
8 --------------------0xe619
9 --------------------0xe51a
You might also like