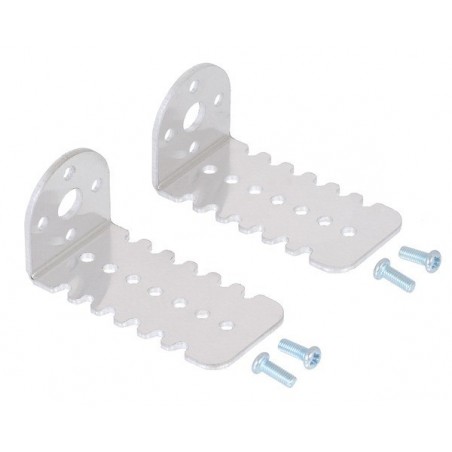  
Pololu 25D mm Metal Gearmotor Bracket Pair
If you have any questions on this product please feel free to contact us.
*Disclaimer: The images are merely illustrative.
These light-weight brackets (8.5 g each) are specifically designed for the Pololu 25D mm metal gearmotors, including the same motors used in the Wild Thumper chassis. Each bracket features seven mounting holes and twelve mounting slots (six along each edge) for M3 or #4-size screws, giving you a variety of mounting options. A total of four M3 screws (two for each bracket) are included for securing the motors to the brackets.
Our 4mm mounting hub works nicely with this bracket.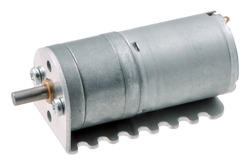 Pololu 25D mm gearmotor with bracket.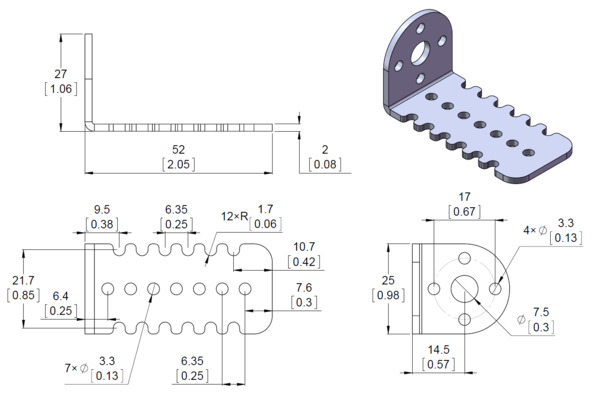 Dimension diagram for the #2676 Pololu 25D mm Metal Gearmotor Bracket. Units are mm over [inches].
This drawing is also available as a downloadable PDF (119k pdf).
Note: This product replaces our original 25D mm metal gearmotor bracket. This new version has been changed to use a mounting hole and slot spacing of 0.25″ (6.35 mm); the original bracket had a hole/slot spacing of 0.245″ (6.2 mm). To accommodate this change, the locations of the mounting holes and slots have changed, and the total number of slots on each side has been reduced from seven to six.
You might also like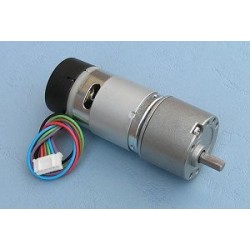 Regular price
€29.11
-€1.35
Price
€27.76