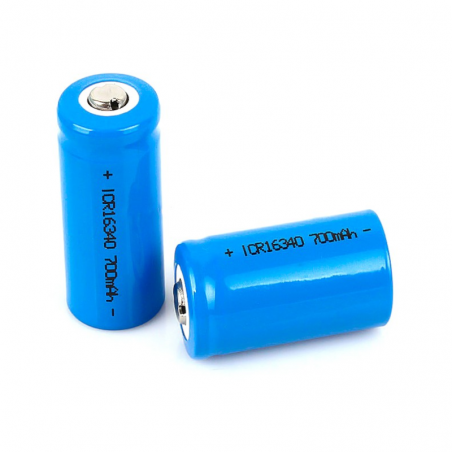  
16340 | CR123A 3.7V 700mah li-ion rechargeable battery
Attention:

It is only sold 1un not 2/3un as in the picture!
If you have any questions on this product please feel free to contact us.
*Disclaimer: The images are merely illustrative.
Model

16340 | CR123

Nominal voltage

3.7 V

Nominal capacity

700mAh

 

discharge from 4.2V to 3.0V at 0.2C mA

Minimal capacity  

700mAh

Max charge current

700 mA    1C

Charging method

charge with constant current 1C to 4.2V, then charge with constant voltage 4.2V  till charge current is less than 0.01C

Discharge cut-off voltage

3.0 V,  the over-discharge detection voltage of  PCM

Operating environment 

Charging, 0°C ~ 45°C ;  65±20%RH  

Discharging, -20°C~60°C ;  65±20%RH

Storage environment

-20°C~45°C
65±20%RH

storage for a long time(>3 months) and the storage condition shall be:<35°C;65±20%RH;3.7~3.9V

Cell Weight (Approx)

23g

Cell Dimension

(Max)

Diameter: 16mm

Height:34mm
Application:
1.Telecommunication: cellular phone, web phone, interphone, Bluetooth earphone.
2.Portable office devices: Notebook, PDA, portable electrograph, portable printer.
3.Video devices: GPS, digital camera, camcorder, portable DVD, portable television, MP3, MP4.
4.Portable exchange devices: POS, Handy, Fingerprint machine, portable stock machine.
5.Illuminate devices: miner lamp, searchlight.
6.Others: toys, models.
You might also like