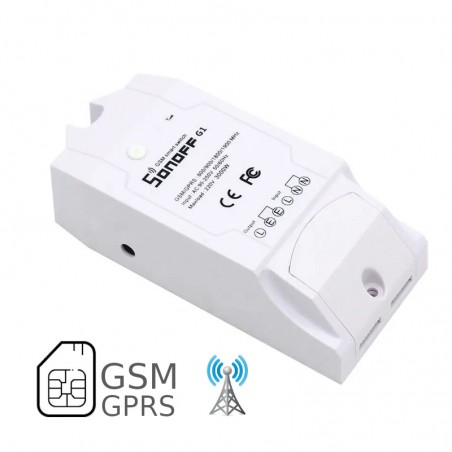  
Sonoff G1: GPRS/GSM Remote Power Smart Switch
Sonoff G1 is a GSM smart power switch that allows users to remotely turn on/off any connected appliances. Different from other Sonoff products that have to connect to WiFi or LAN, G1 supports to be inserted with a SIM card (GSM/GPRS:800/900/1800/1900MHz) and use the 2G GPRS network to control connected appliances. The 3G and 4G card can also work on 2G network.
Features
Supports SIM card (GSM/GPRS:800/900/1800/1900MHz)
Remote ON/OFF via GPRS network
Local ON/OFF by switch button
Scheduled/countdown timer
Scene/smart scene to trigger ON/OFF
Share control
Works with Amazon Echo, Echo Dot, Amazon Tap
Works with Google Home, Google Nest
Works with IFTTT
Specifications for Sonoff G1
Power Supply: 90~250V AC (50/60Hz)
Max. Current: 16A
Max. Power: 3000W
Weight: 100g
Product Size: 114*52*32 (mm)
SIM card (GSM/GPRS:800/900/1800/1900MHz)
Network: Only 2G network supported
Operating Humidity: 5%-90%RH, Non-condensing
Operating Temperature: 0ºC-40ºC(32°F-104°F)
Enclosure Material: Fire-retardant ABS V0
Weight: 100.0g
Gang: 1
Certification: CE, RoHS 
Specification for IP66 Waterproof Case
Waterproof Level: IP66
Body Material: ABS V0
Transparent Cover Material: PC V0
Dimensions: 132.2*68.7*50.1mm(L*W*H)(Details)
Weight: 145.0g
Sonoff IP66 is a high quality waterproof case that can be used with Sonoff G1 PCBA in the underwater environment. The waterproof level of the waterproof box is IP66. It allows you to remote control your lights or home appliances outdoor. Just get it to control your Christmas tree lightings! Read the detailed installation guide.
With G1, users can turn on/off their appliances from the local button or from anywhere in the world. Besides, they can set up scheduled timers and countdown timers to automatically turn their appliances on/off at the specified time. The timers can run themselves even when network is unavailable. They can create scenes to trigger on/off a gang of devices with a single tap. Users can even share the devices to family, so that they can control together.
You might also like