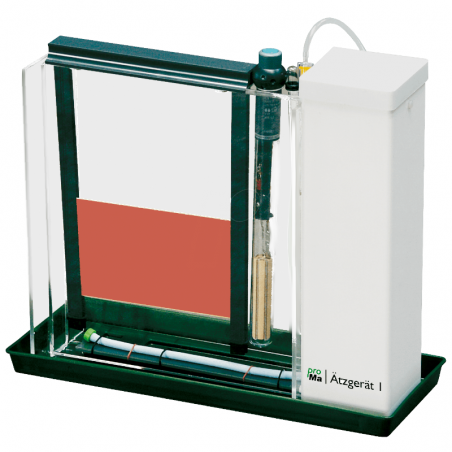  
Etching Tank for PCBs
Etching Tank for PCBs is used in laboratories and small batch production for making printed
circuit boards as well as for etching metal folies.
If you have any questions on this product please feel free to contact us.
*Disclaimer: The images are merely illustrative.
PCB etcher

Includes adjustable heating, circulation pump for etching fluid, air distributor hose and adjustable PCB holder. Control the etching process at all times with the acrylic cuvette. Supplied unassembled.

For PCB size up to 235x175 mm.

The cuvettes are out of cristal clear acrylic glass. They are mounted at a plastic tube in which the
membrane pump is mounted. Further the etching device includes the glass heater for heating up
the etchand temperature up to 45°C, a PCB-holder for carrying the printed circuit boards while
etching and a thermometer.
During etching the boards, the membrane pump blows air in the air curtain tube which is mounted
at the bottom of the tank. Outcome of this, small air bubbles are inside the etchand and reduces the
etching time.
Super slim acrylic glass tank
Membran pump and air curtain tube inside the tank for producing small air bubbles inside the etchand
Adjustable heater (glass-heater),Temperature range nearly +36°C to +45°C
Adjustable PCB holder to carry circuit boards of various sizes
Glass thermometer
Plastic drip tray
You might also like