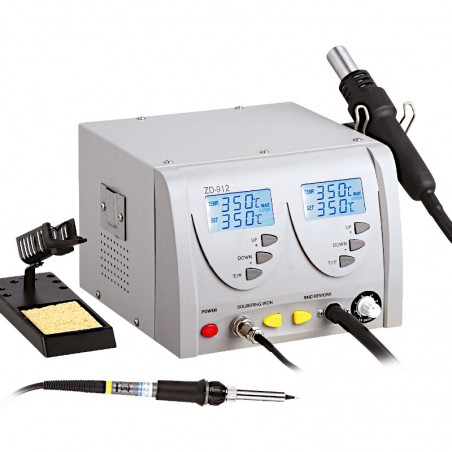  
Soldering and repair station ZD-912
ZD-912 Soldering & Reworking Station is a high-performance and multi-function station. It is suitable for soldering and desoldering all type of surface mounted IC and prevents any damage to the PCB or components.
If you have any questions on this product please feel free to contact us.
*Disclaimer: The images are merely illustrative.
Features
- Good appearance and easily use
- Hot air heat up and the temperature increase quickly
- The hot air temperature can by calibrated from 160°C to 480°C continuously
- The hot air temperature can be calibrated from 3L/min to 24L/min continuously
- Having multiple absorbing tips of different inner diameters, and suitable to remove all types of chips
- Having the thermostat function and suitable for soldering different components automatically
- Playing overall rolls in one station with desoldering and soldering function. Widely used in the fields
of the electronic production and repairing like chips soldering/desoldering nad repairing
- The temperature sensor on the top of the tips can check the tip temperature quickly and decreasing
the possibility of the tip temperature falling off during the operating and suitable for lead free soldering.

Station:
- Input voltage: 110-130V AC, 220-240V AC
- Power consumption: 60W + 320W
- Main fuse: 3,15A/250V
- Air pump: diaphragm

Solder:
- Voltage: 24V AC
- Power: 60W (heat up rating 130W)
- Temperature: 160°C - 480°C
- Heating element: ceramic heater

Hot air smd rework:
- Voltage: 110V - 130V AC, 220V - 240V AC
- Capacity: 24L/min (max)
- Power: 320W
- Temperature: 160°C - 480°C
You might also like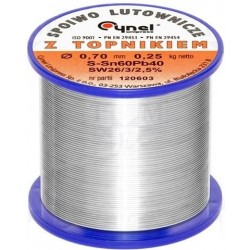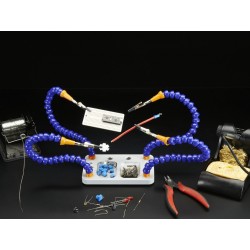 Regular price
€56.46
-€7.00
Price
€49.46