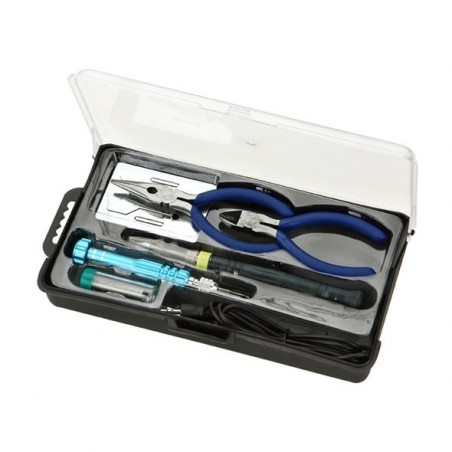  
Tool set ZD-972F
Practical set for soldering and small repairs in a plastic case. It allows you to quickly and efficiently repair or install electrical equipment. The 8W solder has a long, thin tip that can solder in hard-to-reach areas.
 
If you have any questions on this product please feel free to contact us.
*Disclaimer: The images are merely illustrative.
Product parameters:

- heat up time around 10 seconds
- cooling in less than 30 seconds
- long life
- USB powered soldering iron
- set includes: solder wire, screwdriver with changeable tips, long, 5" thin pliers, 4.5 "splitting pliers, 5V / 8W USB soldering iron, metal stand
 

Technical parameters:
- voltage / power: 5V / 8W
- Packaging dimensions: 250 x 140 x 45mm
- Weight: 427g
You might also like