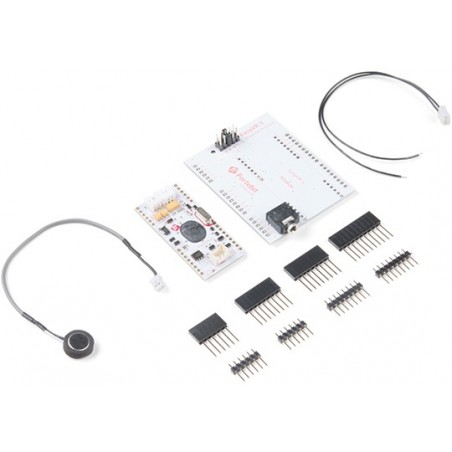  
EasyVR Shield 3.0 - Voice Recognition Shield
EasyVR 3.0 is a multi-purpose speech recognition module
Do you make time to talk to your Arduino? Maybe you should! The EasyVR 3 Plus Shield is a voice recognition shield for Arduino boards integrating an EasyVR module. This kit includes the EasyVR 3 Plus Module, the Arduino Shield Adapter, microphone, and headers. With all of these parts, everything has been provided to you to get up and running in a short amount of time with minimal soldering!
EasyVR 3 Plus is a multi-purpose speech recognition module designed to add versatile, robust and cost effective speech recognition capabilities to almost any application. The EasyVR 3 Plus module can be used with any host with a UART interface powered at 3.3V – 5V, such as PIC and Arduino boards. Some application examples include home automation, such as voice-controlled light switches, locks, curtains or kitchen appliances, or adding "hearing" to the most popular robots on the market.
Note: Please be aware that the EasyVR 3 Plus Shield for Arduino does not come pre-assembled and will require some soldering and assembly before operation.
Includes:
EasyVR 3 Plus Module
EasyVR Shield 3
Wired Microphone
Speaker cable (Speaker not included)
Header Set
Features:
Up to 256 user-defined Speaker Dependent (SD) or Speaker Verification (SV) commands, that can be trained in ANY language, divided into maximum 16 groups (up to 32 SD or 5 SV commands each).
A selection of 26 built-in Speaker Independent (SI) commands for ready-to-run basic controls, in the following languages:

US English
French
German
Italian
Japanese
Spanish

Other SI commands freely downloadable from the Fortebit website (downloads section).
SonicNet™ technology for wireless communications between modules or any other sound source (Audio CD, DVD, MP3 Player).
Up to around 21 minutes of pre-recorded sounds or speech.
Up to about 137 seconds of live message recording and playback.
Real-time Lip-sync capability.
DTMF tone generation.
Differential audio output that directly supports 8Ω speakers.
Easy-to-use Graphical User Interface to program Voice Commands and audio.
Standard UART interface (powered at 3.3V - 5V).
Simple and robust documented serial protocol to access and program through the host board.
Six General purpose I/O lines that can be controlled via UART commands.
With the optional Quick T2SI Lite license, up to 28 custom Speaker Independent (SI) command vocabularies, with up to 12 commands each, for a total of 336 possible commands in the following languages:

US English
British English
French
German
Italian
Japanese
Korean
Mandarin
Spanish

Compatible with Arduino boards that have the 1.0 Shield interface (UNO R3) including, but not limited to:

Arduino Zero
Arduino Uno
Arduino Mega
Arduino Leonardo
Arduino Due

Supports 5V and 3.3V main boards through the IOREF pin (defaults to 5V if this pin is absent)
Supports direct connection to the PC on main boards with a separate USB/Serial chip and a special software-driven "bridge mode" on boards with only native USB interface, for easy access and configuration with the EasyVR Commander
Enables different modes of serial connection and also flash updates to the embedded EasyVR module (through the Mode Jumper)
Supports remapping of serial pins used by the Shield (in SW mode)
Provides a 3.5mm audio output jack suitable for headphones or as a line out
Documents:
You might also like