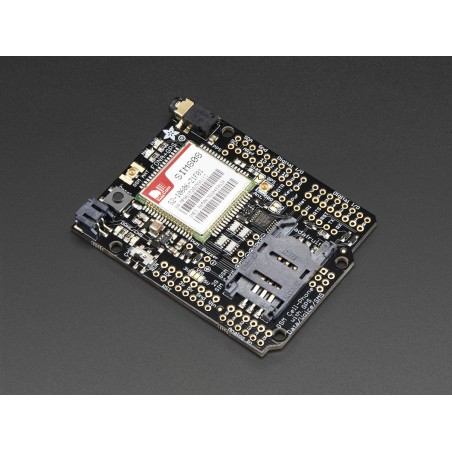  
Adafruit FONA 808 Shield - Mini Cellular GSM + GPS for Arduino
Cellular + GPS tracking, all in one, for your Arduino? Oh yes! Introducing Adafruit FONA 808 GSM + GPS Shield, an all-in-one cellular phone module with that lets you add location-tracking, voice, text, SMS and data to your project, in Arduino shield format for easy use.
If you have any questions on this product please feel free to contact us.
*Disclaimer: The images are merely illustrative.
This shield fits right over your Arduino or compatible. At the heart is a powerful GSM cellular module (we use the latest SIM808) with integrated GPS. This module can do just about everything
Quad-band 850/900/1800/1900MHz - connect onto any global GSM network with any 2G SIM (in the USA, T-Mobile is suggested)
Fully-integrated GPS (MT3337 chipset with -165 dBm tracking sensitivity) that can be controlled and query over the same serial port
Make and receive voice calls using a headset or an external 32Ω speaker + electret microphone
Send and receive SMS messages
Send and receive GPRS data (TCP/IP, HTTP, etc.)
PWM/Buzzer vibrational motor control
AT command interface with "auto baud" detection
Here's the GPS specifications:
22 tracking /66 acquisition channels
GPS L1 C/A code
Sensitivity
Tracking: -165 dBm
Cold starts : -148 dBm
Time-To-First-Fix
Cold starts: 32s (typ.)
Hot starts: 1s (typ.)
Warm starts: 5s (typ.)
Accuracy: approx 2.5 meters
You might also like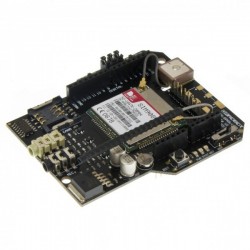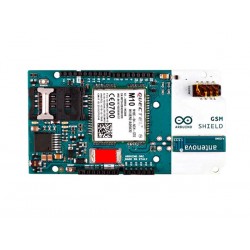 Regular price
€60.89
-€9.27
Price
€51.63