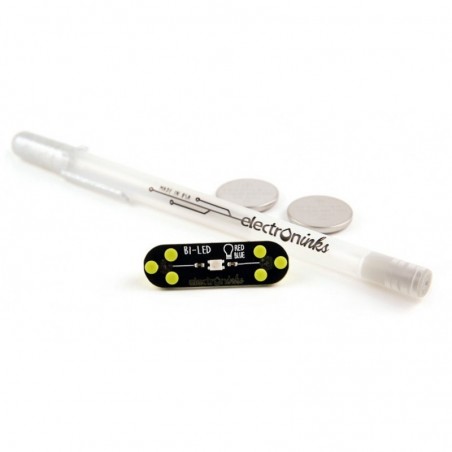  
Circuit Scribe Lite Kit
Circuit scribe lite kit
Contains circuit scribe conductive ink pen
Can be used on any surface
If you have any questions on this product please feel free to contact us.
*Disclaimer: The images are merely illustrative.
Description
Circuit scribe lite kit
Contains circuit scribe conductive ink pen
Can be used on any surface
The Circuit Scribe Lite Kit comes with the a circuit scribe pen, an LED module and some batteries.
Circuit scribe conductive ink pen:
This pen can be used on any surface. The circuit scribe pen can draw 60-200 meters depending on writing surface and speed. 60 meters is seen on absorbent surfaces similar to a napkin, and 200+ meters on photo paper. Photo paper also has other benefits: you can erase ink by scratching a trace away, and you also get the highest conductivity on this surface (<2 ohms/cm). Soldering to the ink is possible - but tricky - and greatly depends on paper/surface type and solder type.
Bi-directional LED module:
The Bi-Directional LED module works in two directions. When current flows through it one way, the LED will be blue; flip it around and it will turn red.
What's Included
Bi-LED module
Circuit scribe conductive ink pen
x2 Coin cell batteries
You might also like