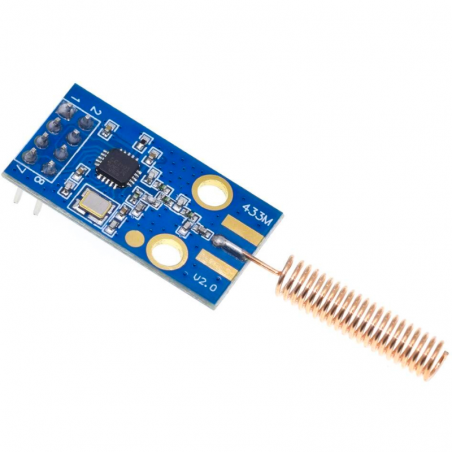  
CC1101 500kbps Wireless Transceiver Module RF 433MHz SPI interface
This is a self-developed, small-size, 433 MHz DIP wireless module with a maximum tx power of 10mW based on CC1101 of Texas Instruments. Due to the adoption of the very mature CC1101 as the core chip, its stability has been unanimously praised by user. The module is mainly used in smart home, industrial, scientific research and medical, as well as short-range wireless communication equipment.
If you have any questions on this product please feel free to contact us.
*Disclaimer: The images are merely illustrative.
High sensibility,sight distance reliable transmission distance up to 350m;
Adopt FSK modulation,support OOK/ASK/MSK modulation;
Carrier frequency 433MHz,other ISM band such as 315M/868M/915M can be made;
Programmable control data transfer rate,as high as 500kbps;
Programmable control output power can reach +11dBm for all support band;
Can flexibly allocate various communication channels,fast frequency switching can meet the need of frequency hopping system;
Low power consumption:Power 11mw,receive current <15mA ,emission current <25mA ,dormancy current 2uA ;
Data buffer,sudden data transmission,data RSSI output,link quality indication;
Support automatic cleaning channel access(CCA) before transmission,carrier detect system;
Powerful digital features,can use cheap micro controller to get high performance RF system;
10K rate in 350m
| | |
| --- | --- |
| Operating Temperature | -20c to 80c |
| Voltage - Supply (Min) | 1.9V |
| Voltage - Supply (Max) | 3.6V |
| Applications | wireless reading meter |
| Input Type | DC |
You might also like