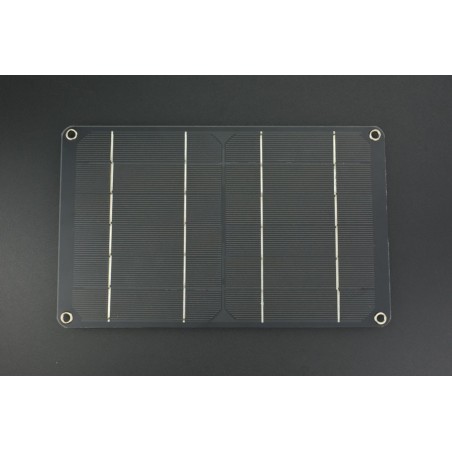  
Monocrystalline Solar Panel (5V 1A)
If you have any questions on this product please feel free to contact us.
*Disclaimer: The images are merely illustrative.
INTRODUCTION
This is a high-performance, lightweight, portable monocrystalline silicon solar panel in a PET package, with an integrated voltage regulator output of 5V, with working indicators, USB type-A mother-port output, plug-and-play. It can supply plenty of power in various environments to prevent the system from shutting down, even in rainy days. 

The energy of solar panel will be particularly efficient when paired with the DFRobot solar power management board. The panels are provided with open holes and copper clasps so that they can be attached directly to the backpack for easy portability and use. The ultra-thin, lightweight design weighs just 90g. It's much lighter than a solar panel in a traditional glass package. 

When you hang this panel, make sure the panel is facing the sun and there is no shade covering the solar panel.
SPECIFICATION
Operating Voltage: 5V (With voltage regulator module)
Open-circuit Voltage: 7.2V
Operating Current: 1A(MAX)
Short circuit current: 1.1A
Maximum power: 6W
Material: Monocrystalline Silicon Flexible Lamination
Wire length: 1m
Product size: 27.5cm*16cm*0.2cm / 10.82*6.3*0.078 in
Working temperature: -30℃~70℃
 
DOCUMENTS
SHIPPING LIST
Monocrystalline Solar Panel (5V 1A) x1
You might also like