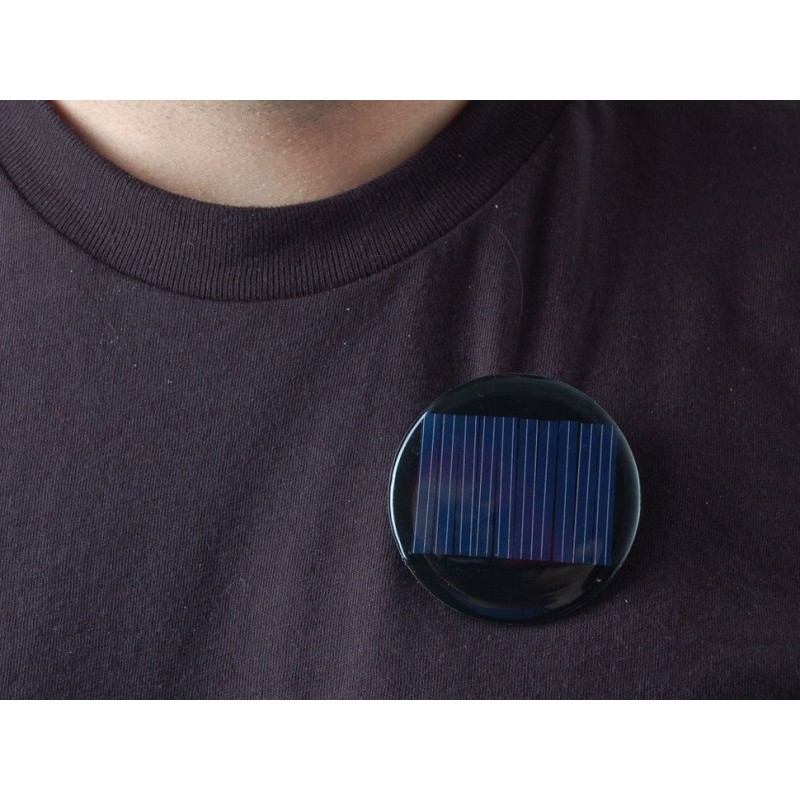  
Round Solar Panel Skill Badge - 5V
There are 10 slivers of solar cell inside for a 5V rated voltage in sun. The output is about 40mA when in bright sun, less in shade or cloudy weather. You can use this to power small, low power projects with a small low power microcontroller or chip and maybe an LED.
If you have any questions on this product please feel free to contact us.
*Disclaimer: The images are merely illustrative.
DESCRIPTION

This skill badge is self-fulfilling! Normally you would get the badge after the project is done, but in this case, the badge can be part of the project! The solar panel is epoxied into a round disc 55mm diameter (about 2.2 inches), its rugged and looks cool besides. We include a sticky foam pin back you can attach to the back of the panel to mount it onto a backpack, jacket or sash.

Of course, it also is a perfectly functional solar panel.

The epoxy coating makes this panel rugged and waterproof on the front. The back has points for soldering. If you want to make this fully waterproof you'll need to dab waterproof epoxy onto the back to cover the solder points once you've attached wires

TECHNICAL DETAILS

10 x Polycrystaline solar cells
Rated output: 5V @ 40mA
55mm diameter x 3mm thick
Solder points on the back
Weight: 8.9g
You might also like