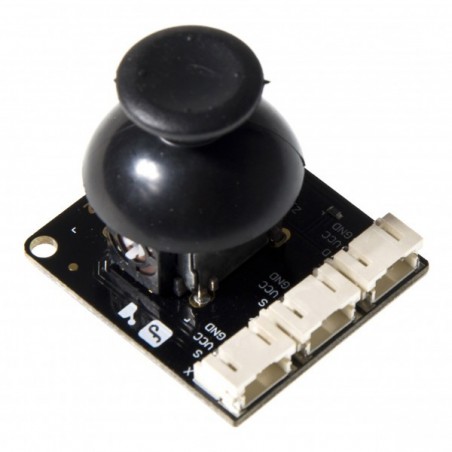  
JoyStick Module V2
X,Y analog control, digital button
Package Content:

If you have any questions on this product please feel free to contact us.
*Disclaimer: The images are merely illustrative.
Introduction
Lots of robot projects need joystick. This updated joystick module V2 provides an affordable solution.  Simply connect  to two analog inputs, the robot is at your commands with X,Y control. It also has a switch that is connected to a digital pin.  This joystick module can be easily connect to Arduino by our IO Expansion Shield with supplied cables.
Notice: The new version of analog sensor port pin mapping has been changed as the following two features.Please check the tips for changing sensor cable pinmapping while using the I/O Expansion shield. We will continue to update. For the inconvenience caused, please understand.
Inprovement List
Wide voltage range from 3.3V to 5V
Standard assembling struct (two 3mm holes with multiple of 5cm as interval)
Easily recognitive interfaces of sensors ("A" for analog and "D" for digital)
Icons to simplely illustrate sensor function 
High quality connector
Immersion gold surface
Specification
Supply Voltage: 3.3V to 5V
Interface: Analog x2,Digital x1
Size:35x39mm
Documents
Shipping List
Joystick Module V2      (1 unit)
You might also like