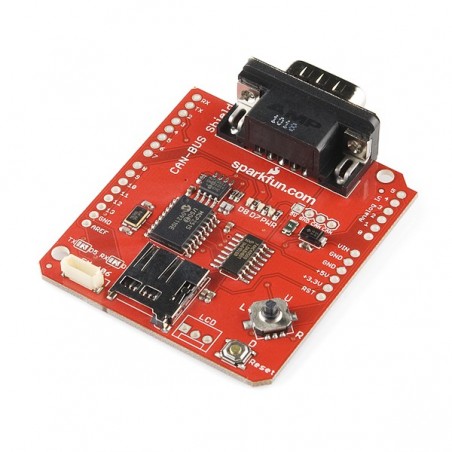  
CAN-BUS Shield
Connect your arduino to a CAN bus and use it as a data logger
If you have any questions on this product please feel free to contact us.
*Disclaimer: The images are merely illustrative.
This shield gives the Arduino CAN-Bus capability. It uses the Microchip MCP2515 CAN controller with MCP2551 CAN transceiver. CAN connection is via a standard 9-way sub-D for use with OBD-II cable. Ideal for automative CAN application. The shield also has a uSD card holder, serial LCD connector and connector for an EM406 GPS module. Making this shield ideal for data logging application.
-Cable not included.
Features
CAN v2.0B upto 1 Mb/s
High speed SPI Interface (10 MHz)
Standard and extened data and remote frames
CAN connection via standard 9-way sub-D connector
Power can supply to Arduino by sub-D via resettable fuse and reverse polarity protection.
Socket for EM406 GPS module
Micro SD card holder
Connector for serial LCD
Reset button
Joystick control menu navigation control
Two LED indicator
Documents
You might also like