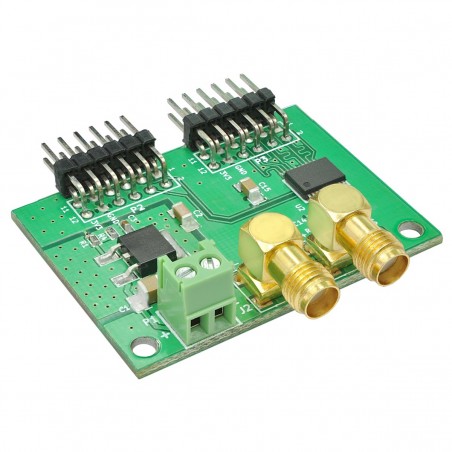  
AD9283 ADC Expansion Module
If you have any questions on this product please feel free to contact us.
*Disclaimer: The images are merely illustrative.
Product Description
AD9283 ADC module features AD9283 an 8-bit monolithic sampling analog-to-digital converter with an on-chip track and hold circuit. The maximum conversion rate is at 100 MSPS, with outstanding dynamic performance over its full operating range. This module is designed to be used with Numato Lab's FPGA/Micro-controller boards featuring a 2x6 pin Expansion connector. It can also be used with other boards and connector types by using manual wiring.
Applications:
Product prototyping
Low Cost Digital Oscilloscopes
Data acquisition
Digital Instrumentation
 Board features:
Two 2x6 expansion connectors
8-Bit, 100 MSPS ADC
On-Chip Reference and Track/Hold
SNR = 46.5 dB @ 41 MHz at 100 MSPS
Low Power: 90 mW at 100 MSPS
Dimension: 35mm X 48mm
Specifications:
Number Of Analog Inputs: 1
Analog Input Type: Differential/Single Ended
ADC Resolution: 8Bits
Sampling Rate (Max): 100MSPS
Analog Input Rage: 1V P-P
Documents:
You might also like