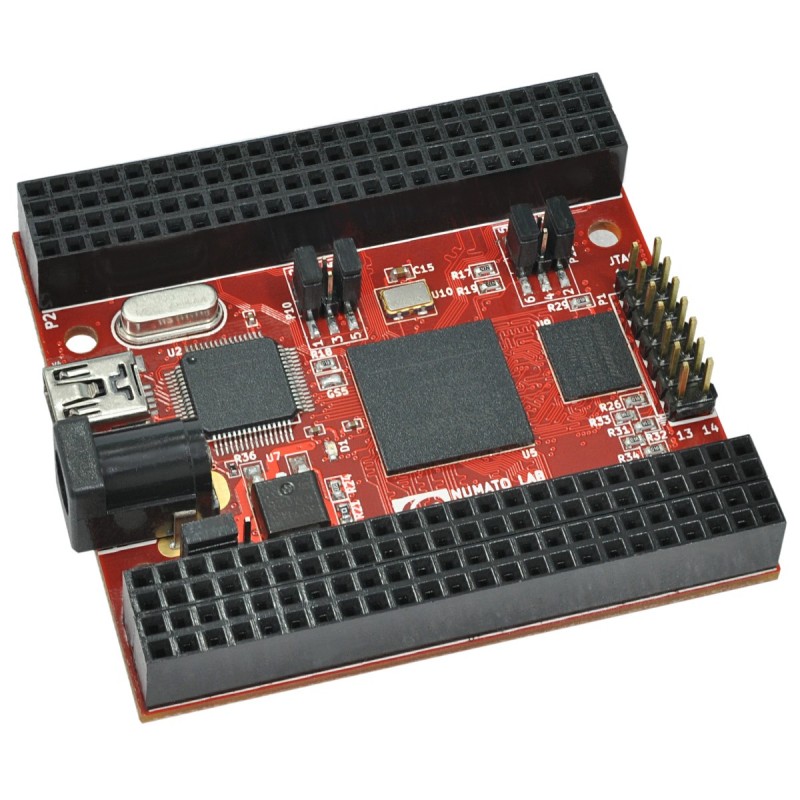  
Saturn - Spartan 6 FPGA Development Board with DDR SDRAM
If you have any questions on this product please feel free to contact us.
*Disclaimer: The images are merely illustrative.
Product Description
Saturn is an easy to use FPGA Development board featuring Xilinx Spartan-6 FPGA. Saturn is specially designed for experimenting and learning system design with FPGAs. This development board features Xilinx XC6SLX series FPGA with FTDI's FT2232H Dual-Channel USB device. The high speed USB 2.0 interface provides fast and easy configuration download to the on-board SPI flash. No programmer or special downloader cable is needed to download the bit stream to the board. 
Academic pricing is available for students and faculty. 
Applications
Product Prototype Development 
Development and testing of custom embedded processors 
Signal Processing 
Communication devices development 
Educational tool for Schools and Universities 
 
Board features
FPGA: Spartan-6 LX45 in CSG324 package (XC6SLX9, LX16 and LX25 available for custom order) 
DDR: 166MHz 512Mb LPDDR 
Flash memory: 128 Mb SPI flash memory 
100MHz CMOS oscillator 
High Speed USB 2.0 interface for On-board flash programming 
FT2232H Channel A is dedicated for SPI Flash Programming. Channel B can be used for custom applications.
On-board voltage regulators for single power rail operation 
FPGA configuration via JTAG and USB 
Maximum 158 IOs for user defined purposes 

XC6SLX9 - 118 IOs 
XC6SLX16 - 150 IOs 
XC6SLX25 - 144 IOs 
XC6SLX45 - 136 IOs 
FT2232H - 8 IOs
All tools, files and projects associated with building Linux for Saturn
Bootable Linux Image For Saturn
Configuration Tool (Windows)
Configuring FT2232H USB Serial converter on Saturn Spartan 6 Module
Creating Xilinx EDK test project for Saturn
Expansion modules and Peripherals
How to test LPDDR SDRAM on Saturn using ISE
IO Breakout Module For Saturn
Saturn, Microblaze and Linux - How to Run Linux on Saturn Spartan 6 FPGA Module
Schematics and layout in KiCad
User Constraints File
User Manual
xc3sprog for Windows And Linux (Third party, Open source)
Numato Lab Board support files for EDK BSB wizard
Index  -  Name  -  Language/Technology  -  IDE  -  Hardware Modules Required  -  Download
1_16x2 LCD Display_Verilog_Xilinx ISE

2_LEDs_Verilog_Xilinx ISE

3_Push Button Switch_Verilog_Xilinx ISE

4_Seven Segment LED Display_Verilog_Xilinx ISE

5_8Bit VGA_Verilog_Xilinx ISE

6_LM4550 AC97 Audio_Verilog_Xilinx ISE

7_CS4344 Stereo Audio_Verilog_Xilinx ISE

8_100M Ethernet_Verilog_Xilinx ISE

9_HDMI Transmitter_Verilog_Xilinx ISE