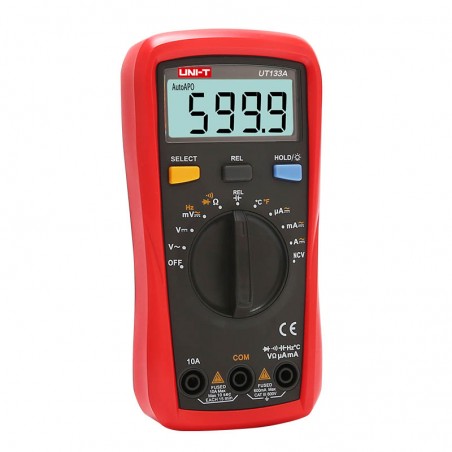  
UT133A DIGITAL MULTIMETER - AUTO RANGE, NCV, TEMP.
UT133A/B is a palm size multimeter adopting intellectual ADC chip  It provides overload alarm as well as electricity protection. It is a professional device designed for electric industry
The NCV and continuity measurement have acousto-optic indications. It also measure temperatur, frequency and capacitance.
If you have any questions on this product please feel free to contact us.
*Disclaimer: The images are merely illustrative.
Documentos:
Especificações
Gamas
UT133A
Tensão DC
600mV/6V/60V/600V/1000V
±(0.5%+3)
Tensão AC
600V
±(0.7%+3)
Corrente DC
600uA/60mA/600mA/10A
±(1%+3)
CorrenteAC
10A
±(1.2%+3)
Resistências
600Ω/6kΩ/60kΩ/600kΩ/6MΩ/60MΩ
±(0.8%+3)
Condensadores
9.999nF/99.99nF/999.9nF/9.999μF/99.99μF/999.9μF/9.999mF   
±(4%+5)
Frequência
10.00Hz~1.000MHz
±(0.1%+5)
Temperatura
–40℃~1000℃/–40°F~1832°F
±(1.5%+5)

 

Características 

Escalas Automáticas (Auto-Range)
Display de 6000 contagens
Refresh: 3x por segundo
NCV (função de deteção do campo magético "Non contact voltage")
Teste de continuidade
Alarme de sobrecarga (OL)
Indicações acústicas e óticas (NCV e continuidade)
Indicção de bateria fraca
Função retenção de dados (H - Data Hold)
Função REL (valor relativo)
Função de Desligar backlight após 30s de não utlização
Backlight do display
Segurança CAT III 600V
Certificação CE

Características Gerais:

Alimentação:  AAA 1.5V x 2
Cor do produto: Vermelho e Cinza    
Peso:  255g
Tamanho do display: 56.8mm x 36.1mm
Tamanho: 155mm x 76.5mm x 49mm
Fusíveis usados: 6x32mm: 600mA, 10A

Conteúdo:

Multímetro UT133A
Ponta de Prova de Temperatra Tipo-K
Pontas de prova (preta e vermelha)
Pilhas
Manuel (EN)
You might also like