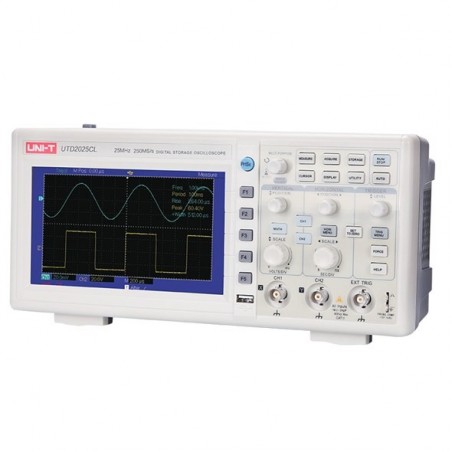  
Oscilloscope UNI-T UTD2025CL
UTD2000CL series is an economical bench-type digital storage oscilloscope, meeting needs of basic measurements. The simple and clear front panel design provides convenient operations for users.
If you have any questions on this product please feel free to contact us.
*Disclaimer: The images are merely illustrative.
The UTD2000L series desktop digital storage oscilloscope offers 2 channels and a sampling rate of 250 MS/s, which is sufficient enough for 25 MHz bandwidth. With USB OTG, you can store the measured values on a USB flash drive. A simple front panel with clearly labeled functions for basic operations, scale and location of individual channels allows you to use habits while using traditional tools, so you can use the device without having to learn anything, or work with it for a long time.
Specifications
Model
UTD2025CL
Bandwidth
25MHz
Channels
2
Sampling rate
250MS/s
Rise time
<14ns
Memory depth
25kpts
Waveform capture rate
>2, 000wfms/s
Vertical scale (V/div)
1mV/div〜20V/div
Time base scale (s/div)
10ns/div〜50s/div
Storage methods
Setup, waveform, bitmap
Trigger specifications
Frequency counter
6 bits
Trigger types
Edge, pulse width, video, alternate
Level range
Internal
±8div from screen center
EXT
±3V
Holdoff range
80ns〜1.5s
Edge trigger types
Rise, fall, rise & fall
Interfaces
Pass/Fail (UTD2025CL), USB-OTG
General Characteristics
Power
100V〜240V ACrms, 50Hz/60Hz
Display
7-inch TFT LCD, WVGA (400x240)
Product color
White and grey
Product net weight
2.2kg
Product size
306mm x 147mm x 122mm
Standard accessories
Probe x 2 (1x, 10x switchable), power cord, USB interface cable, PC software CD
Standard individual packing
Carton box
Standard quantity per carton
2pcs
Standard carton measurement
450mm x 420mm x 280mm
Standard carton gross weight
7.1kg

MANUFACTURER
UNI-TREND 
You might also like