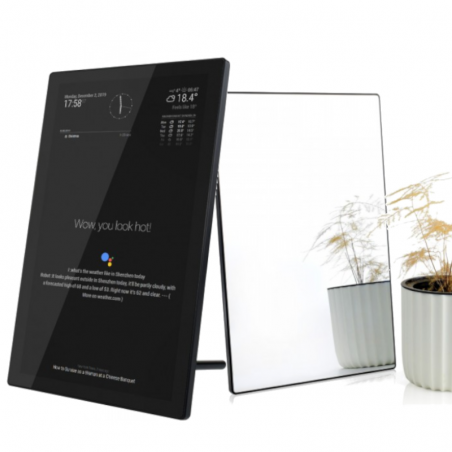  
13.3inch Magic Mirror, Voice Assistant, Touch Control
13.3 inch magic mirror
Voice assistant
Touch control
Raspberry Pi 3A + inside
If you have any questions on this product please feel free to contact us.
*Disclaimer: The images are merely illustrative.
Powerful Controller: Raspberry Pi 3A+
a screen with Raspberry Pi 3A+ as the controller
Read the news through one-way mirror
Other than a normal mirror, this magic mirror will show you news, weather, time, and more user-defined content
I'm listening, then let me tell you
Embedded microphone and speaker, adopts Snowboy hotword detection engine
Google Assistant for English, and iFLYTEK for Chinese
Transform to mini-computer in one second
Just connect mouse and keyboard, now I'm a Raspberry Pi mini-computer
Landscape or Portrait
Display orientation is changeable by easy configuration
Touch Control
1)up to 10-points touch, depending on the operating system.
Audio Feature
1)Embedded dual track ferrite Hi-Fi speaker, dual track high quality MEMS silicon microphone
Appearance and Dimensions
Development Resources
You might also like