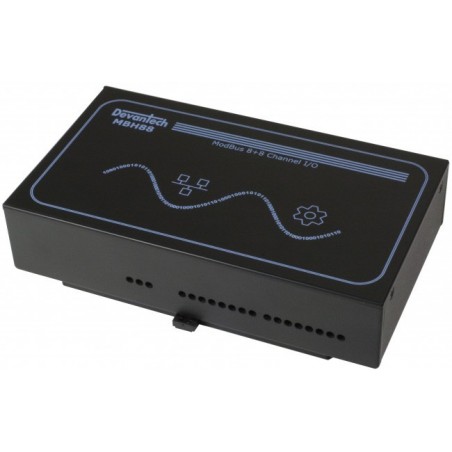  
MBH88 - 8 x 16A modbus relay
The MBH88 is supplied in a DIN rail mounting case, and
provides eight optically isolated
inputs and eight volt free contact relay outputs with a current rating of up to 16Amp each.
Eight isolated inputs may be used as volt free inputs (ie. direct connection to switches or
sensor contacts) or as voltage inputs (5-24vdc).
If you have any questions on this product please feel free to contact us.
*Disclaimer: The images are merely illustrative.
Controlled by modbus RTU over RS485, address, baud rate and parity set by dip switch. 

Relays - 8 VFC with snubbers on N/O
Digital opto isolated inputs - 8
Power - Universal input: 90 – 264Vac, 47-63Hz
Control interface - Modbus RTU over RS485. 
Relay current - Up to 16Amp @24vdc or 250vac 
Connections - Screw Terminals for N/O N/C and Common contacts.
You might also like