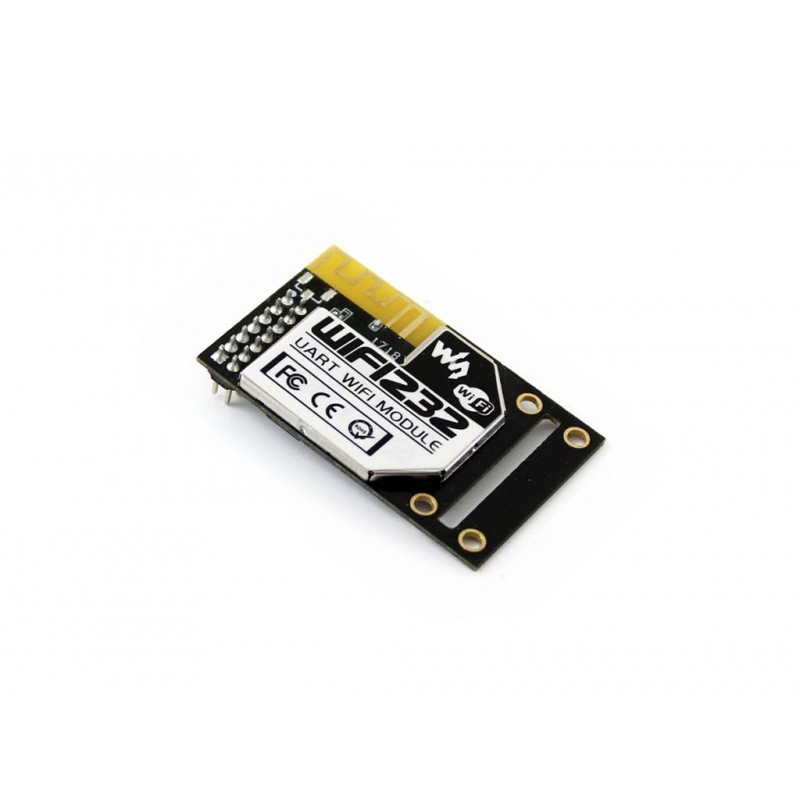  
WIFI232-A2, Industrial High Performance WiFi Module
WIFI232-A2 is a high performance UART WiFi module with shield case and onboard antenna. It is designed for occasions where large data flow is required and power consumption will not be a concern.
If you have any questions on this product please feel free to contact us.
*Disclaimer: The images are merely illustrative.
Features
Easy to use: just like a simple UART module (AT commands provided)
Start up time: 6s (most WiFi modules in the market require more than 6s to start up, even up to 30s)
Power consumption: 164mA-305mA@3.3V (suit for non-battery applications)
Shield case: protects the core circuit (usually no shielding for most other modules)
Ideal hotspot: supports connecting plenty devices, supports route/bridge modes (router AP solution)
TCPB function: supports 2x TCP, two network connections at the same time (rare feature in the market)
Functionality & Performance
Solution: Marvell WiFi (router solution, hardware AP), ARM
Wireless LAN protocols: IEEE 802.11 b/g/n
WIFI security algorithms: WEP/WPA-PSK/WPA2-PSK
Working modes: STA/AP/STA+AP (AP means WiFi hotspot, STA means terminal device)

AP mode: up to 32 devices
STA mode: server allows 32 connections
AP+STA mode: AP allows 32 clients with route function

Multi network protocols: TCP/UDP/ARP/ICMP/HTTP/DNS/DHCP
Supports DHCP, to allocate IP automatically
Supports AT+ instructions set and Web configuration
Supports Transparent/Agreement transmission modes, 4K TCP cache, totally 1M cache
Supports configuring UART framing delay and data volume
Up to 460800bps baudrate, supports hardware flow
Supports Ethernet data transmission, PWM output, GPIO control
Firmware is upgradable via web
Embedded PA, bi-transferring data on 57600 baudrate without packet loss, easily pass through three concrete walls
Communication distance: (between two modules under open and wide environment)

280 metres with external 3DB antenna
200 metres with onboard antenna

Supports factory reset: pull-down the Reload IO port for 3s, restore the module to its factory settings immediately
Supports route/bridge network architectures (thanks to the router solution)
Built-in watch dog and heartbeat mechanism to keep online
Software
Test software for WINDOWS, iOS, Android
Communication example source code for iOS, Android
Development Resources
Wiki : www.waveshare.com/wiki/WIFI232-A2
Weight: 0.005 kg
Selection Guide
General Comparison
WIFI232-A2
WIFI232-B2
Suit for
high flow
high flow
AP mode connections
32
32
STA mode connections
32
32
AP+STA mode connections
32
32
Power consumption
high
high
Interface
2.0mm, 2x7
2.0mm, 2x7
Antenna
onboard
external
Shield case
√
√
Dimension (mm)
25 x 40
25 x 40
Specifications
WIFI232-A2
WIFI232-B2
WiFi chip
Marvell WiFi (router solution, hardware AP)
Microcontroller
ARM
Wireless protocol
802.11 b/g/n, 2.412GHz-2.484GHz
TX power
802.11b: +19dBm(Max.@11Mbps)
802.11g: +18dBm(Max.@54Mbps)
802.11n: +17dBm(Max.@HT20,MCS7)
802.11n: +17dBm(Max.@HT50,MCS7)
pass through three concrete walls under 57600 baudrate,
embedded PA, configurable power
RX sensitivity
802.11b: -89dBm (@11Mbps)
802.11g: -81dBm (@54Mbps) 
802.11n: -73dBm (@HT20,MCS7) 
802.11n: -71dBm (@HT40,MCS7)
Antenna
onboard PCB antenna
external 3DB antenna
Communication distance
(open environment)
200 metres
280 metres
UART
baudrate: 300bps-460800bps
hardware flow: supported
framing delay and data volume configuration: supported
transparent/agreement transmission: supported (4K TCP cache, totally 1M cache)
Other interfaces
Ethernet (100M), PWM, GPIO
Connector
through hole: 2x7, 2.0mm pin headers
Operating voltage
3.3~3.6V
Operating current
170~350 mA @ 3.3V
Temperature
operating temperature: -40℃- 85℃, storage temperature: -45℃- 125℃
Dimension
25mmx40mmx8mm
AP mode
supported, up to 32 devices
STA mode
supported, server allows 32 connections
AP+STA mode
supported, AP allows 32 clients with route function
Security algorithms
WEP/WPA-PSK/WPA2-PSK
Encryption
WEP64/WEP128/TKIP/AES
Network protocol
TCP/UDP/ARP/ICMP/DHCP/DNS/HTTP
Misc
supports route/bridge modes
Online mechanism
built-in watch dog and heartbeat mechanism to keep online
Firmware upgrade
via web
User configuration
AT+ instructions set, web page
Android/iOS terminal
Restore factory
pull-down the Reload IO port for 3s, no worries for faulty setting
Electrical certification
FCC/CE
Process standard
RoHS
You might also like