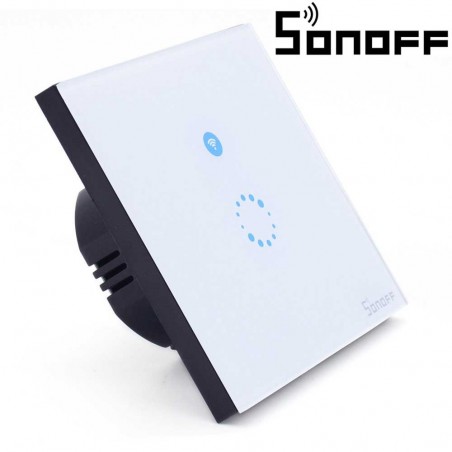  
Sonoff Touch - Luxury Glass Panel Touch LED Light Switch
This product is no longer available, please consider the following option: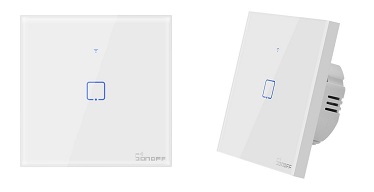 We also have the 2 key or 3 key versions.
You could also choose the black version.
If you have any questions on this product please feel free to contact us.
*Disclaimer: The images are merely illustrative.
Overview
The Sonoff Touch smart wall switch is a 1 gang touch control luxury crystal glass panel wall switch. The wireless wall switch can be added to iOS/Android App eWeLink via WiFi, allowing users to remotely turn on/off connected LED and lights from anywhere at any time. With this touch light switch, users can check real-time light status on their smart phone. The remote wall switch's LED backlight lets users easily find and turn on the lights at night. The WiFi wall switch can be used to control lights or home appliances. Upgrade your home with this modern, fashionable alternative to traditional light switches. 

APP Functions:
Remote ON/OFF
Scheduled/countdown timing
One-key sharing
Group/scene management
Specification:
Standard: EU/US
Input Voltage:90~250V AC
Max. Current:2A
Rated power:400W
Color: White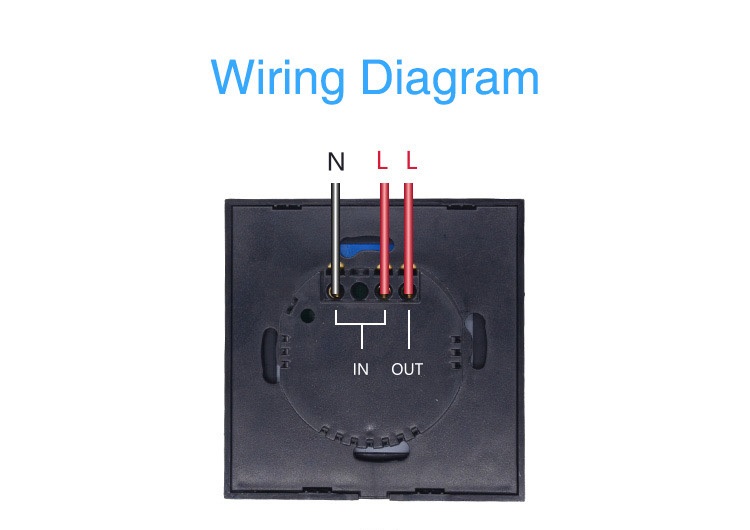 Smart Home Product List
| Product Name | Feature | Input Voltage | Max Current | Max Power | Wireless Frequency | Datasheet | Shopping |
| --- | --- | --- | --- | --- | --- | --- | --- |
| Sonoff | Wireless control switch | 90~250V AC | 10A | 2200W | 2.4Ghz | Click | Click |
| Sonoff RF | 433 RF remote | 90~250V AC | 10A | 2200W | 2.4Ghz | Click | Click |
| Sonoff SV | Low voltage Input | 5~24V DC | 10A | 240W  | 2.4Ghz | Click | Click |
| Sonoff TH10/TH16 | Monitor and set Temp.&Hum. | 90~250V AC | 10A/16A | 2200W(10A)/3500W(16A) | 2.4Ghz | Click | Click |
|  Sonoff Dual | Remote control 2 devices |  90~250V AC | 16A | 3500W |  2.4Ghz | Click  | Click  |
|  Sonoff Pow | Report power &power usage |  90~250V AC | 16A | 3500W |  2.4Ghz | Click  | Click  |
| Sonoff 4CH | 4-channel WiFi Wireless Switch |  90~250V AC | 10A | 2200W |  2.4Ghz | Click  | Click  |
| Sonoff LED | App Control Dimming LED |  180~265V AC | 0.6A | 42W |  2.4Ghz | NO | Click  |
| BN-SZ01 | App Control Ceiling LED |  180~264V AC | 0.1A | 18W |  2.4Ghz | NO | Click  |
|  Sonoff Touch | WiFi wall touch switch |  90~250V AC | 2A | 400W |  2.4Ghz | NO | Click  |
| Slampher | Wireless control light holder | 90~260V AC | 2A | 200W | 2.4Ghz | Click | Click |
| S20 Smart Socket | Smart socket | 90~250V AC | 10A | 2000W | 2.4Ghz | Click | Click |
| iFan | Smart fan | 185~264V AC | 1A | 60W | 2.4Ghz | NO | Click |
| 1 Chnl Inching/self-locking Switch | Access control | 5V/12V DC | 10A | 50/120W | 2.4Ghz | NO | Click |
| Sonoff SC | Monitor indoor environment | usb 5V | 80mA | 0.4W | 2.4Ghz | Click | Click |
For technical support, please go to Itead smart home forum
Additional Information
| | |
| --- | --- |
| Weight | 165 g |
| Discontinued | No |
| Model | IM160928099 |
| Link Wiki | No |
| Works With Google Nest | Yes |
| Works With Amazon Alexa | Yes |
| Ewelink Support | Yes |
You might also like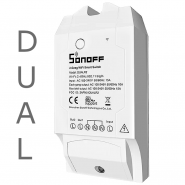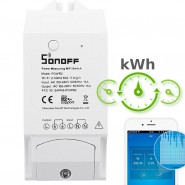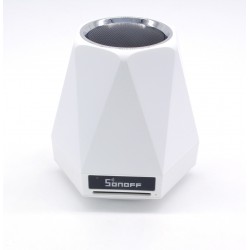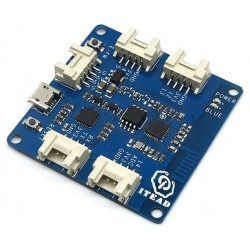 Regular price
€7.97
-€2.00
Price
€5.97