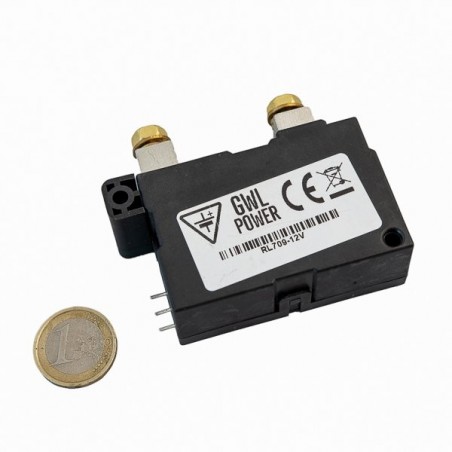  
DC Power Latching Relay 100A, Coil 12V
If you have any questions on this product please feel free to contact us.
*Disclaimer: The images are merely illustrative.
Latching Relay / Switching Contactor - Main contact in two neutral positions, maximum 100A DC @36VDC (120A @250VAC), coil 12V DC. Designed for switching the power circuits.
High current latching relay designed for AC and DC voltage with a maximum current 100A DC (at 36VDC) or 120A AC (at 250VAC). The advantage of the lachting relay is that there is no need for continueous powering of the operating coil.
The voltage of the operating coil is 12V DC.
The maximum loading for DC current is:
12V  - max 120A DC (100A and less recommended for continuous use)
24V  - max 120A DC (80A and less rec. for con. use)
Contains one high-power working contact in two resting positions (ON-OFF) swiched by the coil.
Specification
| | |
| --- | --- |
| Weight (kg) | 0,18 |
| Height (mm) | 43 |
| Width (mm) | 25 |
| Depth (mm) | 76 |
| Nominal Voltage (V) | 12 |
| Max. input current (A) | 100 |
Documents
You might also like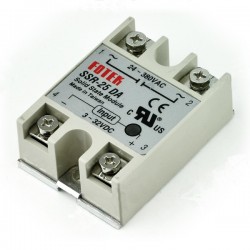 Regular price
€7.72
-€4.55
Price
€3.17