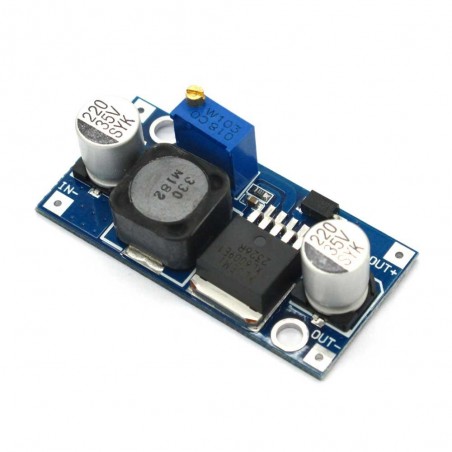  
XL6009 Auto Step Up and Down - Adjustable
This is a DC-DC boost converter step-up power module with high-precision potentiometer.
If you have any questions on this product please feel free to contact us.
*Disclaimer: The images are merely illustrative.
It uses XL6009E1 with the second generation of high-frequency switching technology as core chip, so that its performance is much higher than the first-generation technology LM2577. With high switching frequency of 400KHz, even small-capacity filter capacitors can bring with very nice results, while the ripple is less and the size is smaller.
Specifications:
Input voltage range: 3~32Vdc (the best working voltage range is 5~32Vdc)
Output voltage range: 1.25~35Vdc
With built-in 4A MOSFET switch tube, the efficiency can reach up to 94%
Ultra-high switching frequency up to 400KH. A small-capacity filter capacitor can achieve very good results, while with smaller ripple and size.
Dimensions: L * W * H= 43mm x 21mm x 14mm
You might also like