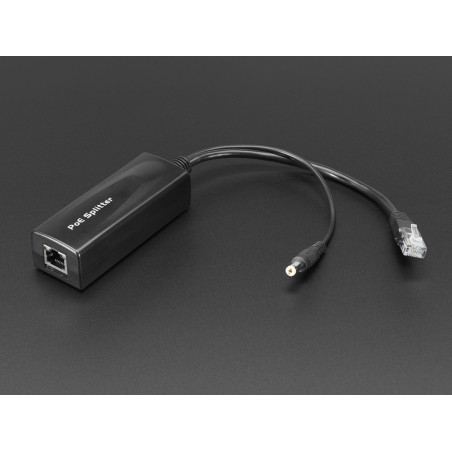  
802.3af (48Vdc) PoE Output Data & Power Splitter - 12V 1A
If you have any questions on this product please feel free to contact us.
*Disclaimer: The images are merely illustrative.
DESCRIPTION

Power over Ethernet (PoE) splitters can make your project wiring a breeze - and best of all they work to connect any 802.3af-capable router to any Ethernet device, even if it doesn't natively support PoE! The splitter takes a unified PoE signal (data and power) from one cable, and then separates the data (Ethernet) and power (+12VDC regulated) into two different lines for non-PoE devices.

This is an economical, practical, high-performance, and reliable 12V PoE Output Splitter based on IEEE 802.3af standard. It can divide power and data signals from a network cable, and can be used with any PoE power supply equipment (PoE injector) that is compatible with IEEE 802.3af, and supply power and data for non-PoE network equipment.

Features:

IEEE 802.3af compliant
Supports 10/100M data transmission
44V-57V power voltage input makes it very convenient to use direct current DC48V power from generator room or PoE power supply equipment, standard or non-standard PoE injector, PoE switch, etc.
Supplies 1 Amp regulated DC12V power on a 2.1mm DC barrel jack - suitable for small projects.
For use only with true 802.3af routers! If you don't have a PoE injector / hub / router, check out our passive PoE cable kit
TECHNICAL DETAILS

Product Dimensions: 300.0mm x 35.0mm x 28.0mm / 11.8" x 1.4" x 1.1"

Product Weight: 62.5g / 2.2oz
You might also like