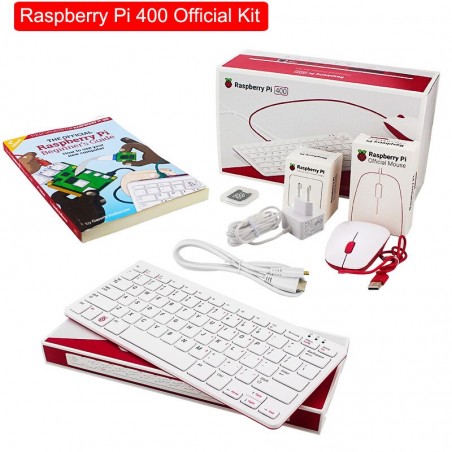  
PT Version - Raspberry Pi400 Computer KIT ( PT Keyboard and PT Book) - Pi 4 4GB Pi400 KIT-PT
It's a Raspberry Pi designed into a keyboard.
This kit includes:
Raspberry Pi 400 (PT version with Raspberry Pi 4 4GB inself)
Original Raspberry Mouser
EU-Plug Original Power Supply
16GB SD Card  withNOOBS Raspbian
1m micro HDMI to HDMI cable
Official Raspberry Pi Beginner's Guide  (Portuguese Language)
If you have any questions on this product please feel free to contact us.
*Disclaimer: The images are merely illustrative.
It's a computer. Neat.
Featuring a quad-core 64-bit processor, 4GB of RAM, wireless networking, dual-display output, and 4K video playback, as well as a 40-pin GPIO header, Raspberry Pi 400 is a powerful, easy-to-use computer built into a neat and portable keyboard.
It's a Raspberry Pi. It's a keyboard (PT version)
It's a Raspberry Pi designed into a keyboard.
Raspberry Pi 400 incorporates a purpose-built board based on Raspberry Pi 4. Featuring the same powerful processor, Raspberry Pi 400 has specially designed thermals to keep your computer cool and silent while you're hard at work.
The GPIO pins remain accessible, so if you want to explore beyond the desktop, you can connect components and prototype your projects.
Portuguese Layout Keyboard

This is the kit you're looking for
(note: Despite Images below, this kit include PT keyboard . PT guide Book version and and EU-plug Power Supply)
This kit includes:
Raspberry Pi 400 (PT version with Raspberry Pi 4 4GB inself)
Original Raspberry Mouser
EU-Plug Original Power Supply
16GB SD Card  withNOOBS Raspbian
1m micro HDMI to HDMI cable
Official Raspberry Pi Beginner's Guide  (Portuguese Language)
More info here: https://www.raspberrypi.com/products/raspberry-pi-400/