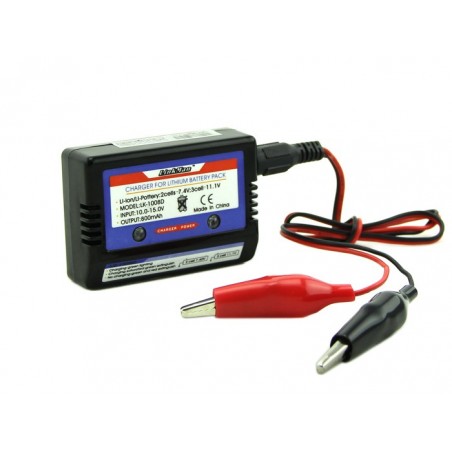  
2-3S Li-Poly Battery Charger
Charge 2-3cell Li-ion/Li-poly battery, Constant output current 800±50mA, power supply is not included.
Cheap li-poly battery charger with high performance and compact size. Simpler than LiPro Balance Charger - IMAX B6, this li-poly battery charger can only be used to charge 2S and 3S battery pack. If you need a cheap and simple charger, it may meet your needs. Since the power supply is not included, we suggest you pick up a 12VDC power supply to use together.
Note: The charger can only charge a battery with charging input wire, please correctly connect the battery with the charger following their pole marks to avoid danger.
Features
JST-XH charge plug
Charging indication lights
Input voltage DC 10-15V
Charge 2-3cell Li-ion/Li-poly battery
Constant output current 800±50mA
Cutoff voltage 8.4V±0.1V for 2cells Li-ion/Li-poly battery pack
Cutoff voltage 12.6V±0.15V for 3cells Li-ion/Li-poly battery pack