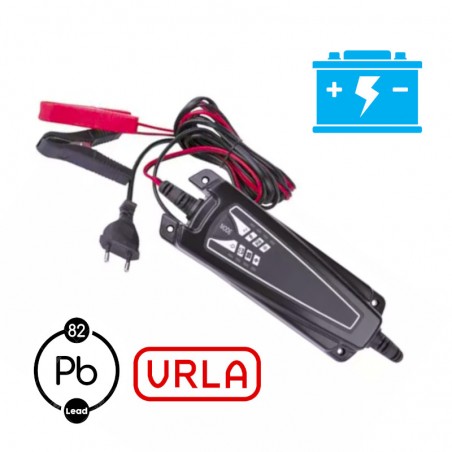  
Battery charger for Lead/GEL batteries 6/12V-4A
Intelligent charger suitable for charging 6V / 12V lead-acid batteries with liquid electrolyte (WET), maintenance-free MF, VRLA, Ca / Ca, AGM and gel.
If you have any questions on this product please feel free to contact us.
*Disclaimer: The images are merely illustrative.
Description
These batteries are found in vehicles, motorcycles, boats, back-up sources, or snowmobiles. It automatically detects the battery status, selects the appropriate charging voltage and starts charging with a seven-step program designed for very efficient charging, restoration of capacity and desulphurisation. When charging is complete, the charger enters the trickle charge mode to prevent damage to the battery by overcharging and to keep it in a charged and ready state. The charger has a charging mode for very low ambient temperatures. The charger can not be used to charge lithium batteries!

Product Parameters:
- intelligent processor-controlled charger, automatic battery detection
- suitable for 6V / 12V WET, MF, VRLA, Ca / Ca, AGM and Gel batteries
- suitable battery capacity 1.2 to 120 Ah, charging current up to 4 A
- restores the battery capacity, automatic charging termination, trickle charge mode
- protection against short circuit, overload, reverse polarity and overheating
- easy to use, color LED indicators, charging cable with clamps
- can not be used for lithium batteries!
Technical parameters:
- input voltage: 220-240 V ~ AC, 50 Hz, 600 mA
- charging current: 0.8 - 4.0 A ± 10%
- trickle charge current: 50 - 150 mA
- charging voltage: 7.3V, 14.4V, 14.7V
- suitable 6V battery capacity : 1.2 Ah - 14 Ah
- suitable 12V battery capacity : 1.2 Ah - 120 Ah
- charging control type: constant current (CC), constant voltage (CV)
- efficiency:> 80 %
- ripple factor: <5 %
- standby power consumption: <1 W
- charging program: 7 step, fully automated
- automatic functions: battery diagnostics, selection of charging voltage and current, charging termination, trickle charge mode
- protection: against short circuit, overload, reverse polarity and overheating
- type of indicators: color LEDs
- charging cable length: 1.8 m
- power cord length: 1.8 m
- charging clamps: yes
- protection rating: IP65
- dimensions: 194 x 64.3 x 47 mm
- weight: 526 g
- package 1 pc paper box / 10 pcs carton
You might also like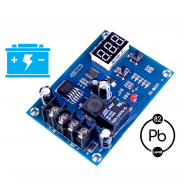 Regular price
€12.76
-€5.80
Price
€6.96