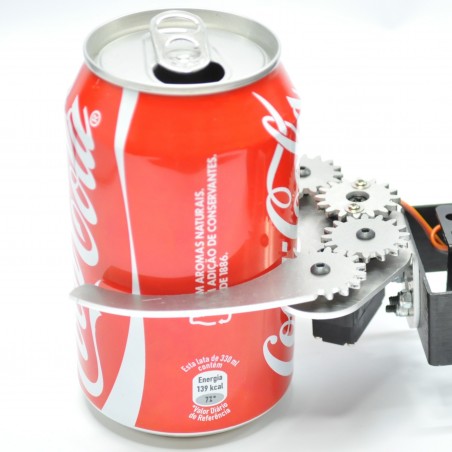  
This is a robust 2mmthick aluminum gripper with an opening range more than 180º allowing "embrace" objects with diameters between 47mm and 110mm through two forceps 69mm long. Very quickly, opens or closes in less than 1 second!


The gripper includes a fast and powerful medium servo MOT03009 with metal internal gears that increased strength and durability. Thia servo is already attached to the gripper, so 'ready to use'.


The total weight of the servo+gripper is only 55 grams! This is the ideal accessory for Robocup and FNR Rescue Junior League because it allows to hold a soda can easily, even if the gripper is not aligned with the can (see video below).


It's possible set a second servo or brackets to add extra degrees of freedom to the robot or robotic arm, as you can see in the demo video below. These extra servos and brackets are not included!


This is a portuguese product developed by botnroll.com and recently introduced into the market after several tests in order to make a reliable, rugged and practical gripper.Order now to enjoy our launch promotion!


Content of Product

    Garra has fuly assembled
    Medium servo is already fixed to the gripper

 

Gripper Features

    Product "ready to use"
    Produced with 2mm aluminum
    Total Weight (with servo): 55g

Servo Features 
Available for order separately here

180 degree rotation
Operating Voltage: 4.8V~6.0V
Operating speed: 0.20sec/60 degree (4.8V)
Operating speed: 0.18sec/60 degree (6V)
Output torque: 2.8kg/cm (19.6oz/in) (4.8V)
Output torque: 3.2kg/cm (19.6oz/in) (6V)

Dimensions: 28.8 x 13.8 x 30.2mm  
Technical Details
Available soon

Video Demo

 
For more information: botnroll@botnroll.com
Depois de vários pedidos ao departamento I&D da botnroll.com para produzir uma garra leve e robusta, especialmente desenhada para robótica, com abertura suficiente para agarrar objectos com um volume considerável, eis que surge a GARRA BOTNROLL!
Esta é uma garra robusta em alumínio de 2mm de espessura e com uma abertura superior a 180º que permite "abraçar" objetos com diâmetro entre 47mm e 110mm através de duas pinças de 69mm de comprimento. Muito rápida, abre e fecha em menos de 1 segundo!
A garra incluí um servo médio MOT03009 rápido e poderoso que posssui engrenagens internas metálicas que conferem uma robustez e durabilidade acrescida. O servo já se encontra fixo à garra, estando "pronto a usar".
O peso total da garra+servo é de apenas 55 gramas! Este é o acessório ideal para a prova de busca e salvamento júnior pois permite segurar uma lata de refrigerante com bastante facilidade, mesmo que a garra não esteja alinhada com a lata (ver vídeo abaixo).
Permite fixar um segundo servo (ou suporte para servo) e adicionar graus de liberdade extra ao robô ou braço robótico, como se pode comprovar no vídeo de demonstração abaixo. Estes servos e suportes extra não estão incluídos!
Este é um produto português desenvolvido pela botnroll.com e recentemente lançado no mercado depois de vários testes com a finalidade de tornar a garra num produto fiável, robusto e prático. Aproveite já a promoção de lançamento!
Conteúdo do Produto
Garra já devidamente assemblada/montada
Servo médio também devidamente assemblado à garra
Caraterísticas da Garra
Produto "ready to use"
Produzida em alumínio reforçado de 2mm
Peso total (c/ servo): 55g
Caraterísticas do Servo
Disponível para compra individual aqui
180º graus de rotação
Tensão de Alimentação: 4.8V~6.0V
Velocidade: 0.20seg/60 degree (4.8V)
Velocidade: 0.18seg/60 degree (6V)
Binário: 2.8kg/cm (19.6oz/in) (4.8V)
Binário: 3.2kg/cm (19.6oz/in) (6V)
Dimensões: 28.8 x 13.8 x 30.2mm
Datelhes Técnicos
brevemente disponível
Vídeo Demonstração
Para mais informações: botnroll@botnroll.com