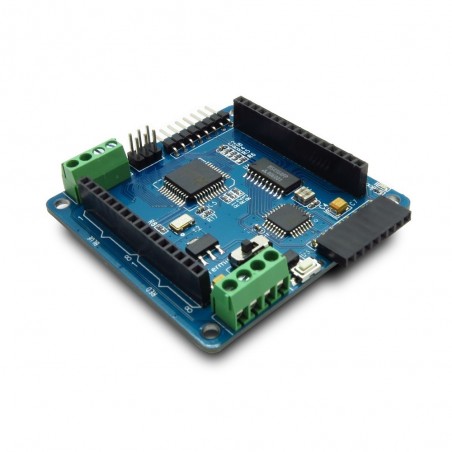  
Colorduino V1
The Colorduino is a RGB LED matrix driver platform basis on Arduino UNO (ATmega328P). It gains three 8+6-bit channels of hardware PWM control of the LED's.
If you have any questions on this product please feel free to contact us.
*Disclaimer: The images are merely illustrative.
Product Description
Overview
Colorsduino is a magic RGB LED dot-matrix driver compatible with Arduino . Colorsduino pairs the M54564 with a single DM163 constant current driver. By using the DM163, Colorduino gains three 8+6-bit channels of hardware PWM control of the LED's freeing up the MCU from having to implement it in software. This gives the ATmega328 more CPU bandwidth for performing other tasks. Colorduino is easy to cascade by IIC and Power interface.
Note: 1.4 version has been removed the switch compared to 1.3 version.
Features
8bits colors support with 6bits correction for each color in every dots
Hardware 16MHz PWM support
Without any external circuits, play and shine
Dedicated GPIO and ADC interface
Hardware UART and IIC communication with easy cascading
24 constant current channels of 100mA each
8 super source driver channels of 500mA each
Specification
| | |
| --- | --- |
| PCB size | 60mm X 60mm X 1.6mm |
| Microprocessor | Atmega328P |
| Indicator | PWR State |
| Power supply | 5V~7.5V DC(7.5V Max) |
| Cascade power connector | Terminal Blocks |
| Program interface | UART/ISP |
| Expansion socket | 100mil bended pin header pair |
| Communication protocols | UART/IIC |
| RoHS | Yes |
Electronic Characteristics
Specification
Min.
Typical Value
Max.
Unit
Power Voltage(VIN)
6.5
 
7.5
VDC
Power Voltage(VDD)
4.5
5
5.5
VDC
Input Voltage VH:
4.5
5
5.5
Input Voltage VL:
-0.3
0
0.5
V
Current Consumption(Except LED matrix)
-
20
40
mA
Drive current(Every channel)
 
 
500
mA
Drive current(Every dot)
 
 
58
mA
Circuit response time
10
 
 
ns
RGB LED-Matrix color resolution per dot
 
 
16M
 
Uart Baud rate
9600
 
115200
bps
Documents
Please visit our wiki page for more info about this product. It will be appreciated if you can help us improve the documents by correcting the errors, adding more demo codes or tutorials.
Technical support
For technical support, please open a ticket on Itead Support System.
You might also like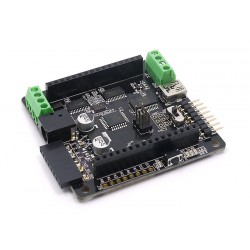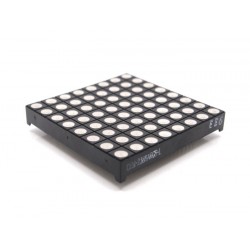 Regular price
€16.18
-€10.00
Price
€6.18