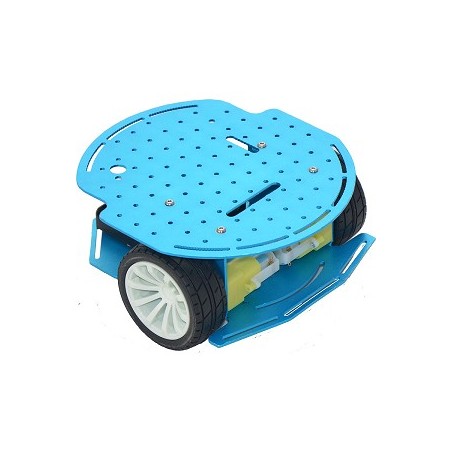  
Skittles 2WD Wheeled Chassis for Arudino (BLACK)
Description
 
•  Aluminum Chassis, with various colors, such as blue, red, orange and black, etc.
•  Designed with plenty compatible mounting holes, for various sensors and arduino board.
•  High-quality micro Gear motors, designed with space for encoders 
•  Up to 2lbs carrying capability.
Keenlon Skittles is equiped with a 2WD Aluminum Chassis. Keenlon Skittles can be easily used with Keenlon Rarudino Microcontroller as well as various sensors and arduino boards. Skittles has different color options, let's choose one you like!
More colors, More chooses!
What's Included
 
  • A aluminum cover kit
  • Two gear motors
  • Two wheels 
  • One 5*AA battery box
 
Specifications
 
• Ground clearance: 19mm.
• Recommended voltage: 3.0 - 7.4 V.
• Stall current at 6V: 2 A per motor.
• No-load current at 6 V: 200 mA per motor.
• No-load output shaft speed at 6 V: 160 RPM.
• wheel diameter: 65mm.
• wheel width: 25mm.
Dimensions
• Size: 170mm×160mm×75mm
• Weight: 420g. (1 lb.)


You might also like