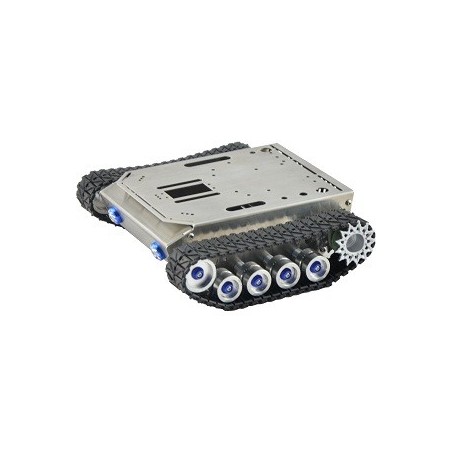  
Iron Man-5 Tracked Chassis for Arduino
Description
 
Keenlon Iron Man - 5, with all chassis made of stainless steel, is solid and good for protection of carry-on equipments and motors
Aluminum road wheels and nylon tracks.
Driven by 2 powerful DC metal gear motors, with space for 2 encoders.
Designed with plenty compatible mounting holes, for various sensors, servo motors and arduino board
Two Bearings in each wheel.
Up to 10lbs carrying capability.
Keenlon Iron Man -5 is equipped with a high speed, sturdy stainless steel chassis and 2 powerful DC metal gear motors. It is designed for both indoor and outdoor use, with outstanding performance on various surfaces. As a result of the tank design, the rear driving motor is located above the inside of the chassis, which can protect the motor even when the chassis travels through puddles. Used in your projects, Keenlon Iron Man – 5, allowing you to mount the module above or inside the chassis according to your applications.
 

What's Included
 
• A steel cover kit.
• Two rear wheels.
• Ten road wheels(with 20 Bearings).
• Two plastic tracks.
• Two metal gear motors (6V 33.5. 220RPM.).
Specifications
 
• Ground clearance: 9mm.
• Recommended voltage: 6 - 9V.
• Stall current at 6V: 4 A per motor.
• No-load current at 6 V: 300 mA per motor.
• No-load output shaft speed at 6 V: 220 RPM.
Dimensions
• Size: 193mm×225mm×64mm
• Weight: 1.5 kg. (3.3 lbs.) 
Keenlon Iron Man-5 Tracked Chassis.pdf
Installation Guide (Keenlon Iron Man-5 Tracked Chassis) V1.0.pdf
You might also like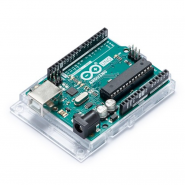 Regular price
€19.31
-€0.85
Price
€18.46