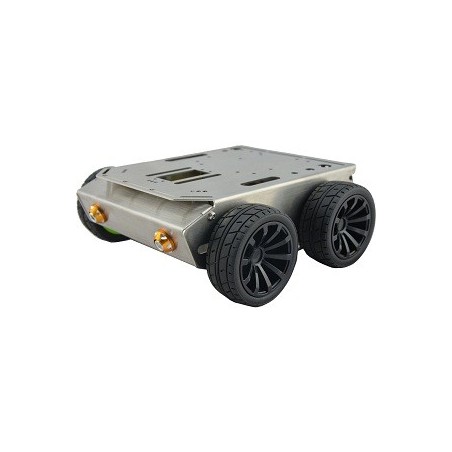  
Iron Man-1 4WD Wheel Chassis for Arduino
Description
 
1. Keenlon Iron Man - 1, with all chassis made of stainless steel.
It is solid and good to protect carry-on equipments and motors.
2. High-quality micro Gear motors designed with space for 4 encoders.
3. Designed with plenty compatible mounting holes, for servo motors and arduino board.
4. Up to 3 lbs. carrying capability
Keenlon Iron Man - 1 has a 4WD stainless steel chassis. Together with Keenlon Rarudino Microcontroller.
It can be freely driven on common roads.
Keenlon Iron Man – 1 allows you to mount the modules above or inside the chassis as your applications.
What's Included
 
  • A steel cover kit
  • Four gear motors
  • Four wheels
 
Specifications
 
• Ground clearance: 13mm
• Recommended voltage: 3 - 7.4 V
• Stall current at 6V: 2 A per motor
• No-load current at 6 V: 200 mA per motor
• No-load output shaft speed at 6 V: 160 RPM
• Wheel diameter: 68mm 
• Wheel width: 25mm 
Dimensions
• Size: 193mm×220mm×72mm
• Weight: 1.15 kg. (2.5 lbs.)
Keenlon Iron Man-1 4WD Wheel Chassis for Arduino.pdf
You might also like