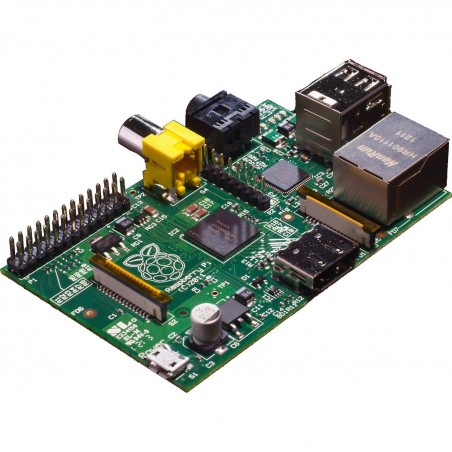  
Raspberry Pi Model B 512 MB
If you have any questions on this product please feel free to contact us.
*Disclaimer: The images are merely illustrative.
The Raspberry Pi is a credit-card sized computer board that plugs into a TV and a keyboard. It's a miniature ARM-based PC which can be used for many of the things that a desktop PC does, like spreadsheets, word-processing and games. It also plays High-Definition video. The Raspberry Pi model B board is supplied as the board only, and comes without operating system, SD card, power supply, keyboard, case or cables.
Model B has 512MB RAM, 2 USB port and an Ethernet port.
The Raspberry Pi measures 85.60mm x 56mm x 21mm, with a little overlap for the SD card and connectors which project over the edges. It weighs 45g.
The SoC is a Broadcom BCM2835. This contains an ARM1176JZFS, with floating point, running at 700Mhz, and a Videocore 4 GPU. The GPU is capable of BluRay quality playback, using H.264 at 40MBits/s. It has a fast 3D core accessed using the supplied OpenGL ES2.0 and OpenVG libraries.
The GPU provides Open GL ES 2.0, hardware-accelerated OpenVG, and 1080p30 H.264 high-profile decode.
The GPU is capable of 1Gpixel/s, 1.5Gtexel/s or 24 GFLOPs of general purpose compute and features a bunch of texture filtering and DMA infrastructure.
That is, graphics capabilities are roughly equivalent to Xbox 1 level of performance. Overall real world performance is something like a 300MHz Pentium 2, only with much, much swankier graphics.
Raspberry Pi Linux Specs:
SoC Broadcom BCM2835 (CPU, GPU, DSP, and SDRAM)
CPU: 700 MHz ARM1176JZF-S core (ARM11 family)
GPU: Broadcom VideoCore IV, OpenGL ES 2.0, 1080p30 h.264/MPEG-4 AVC high-profile decoder
Memory (SDRAM): 512 Megabytes (MiB)
Video outputs: Composite RCA, HDMI
Audio outputs: 3.5 mm jack, HDMI
Onboard storage: SD, MMC, SDIO card slot
10/100 Ethernet RJ45 onboard network
Storage via SD/ MMC/ SDIO card slot
Website Raspberry Pi: http://www.raspberrypi.org/
You might also like