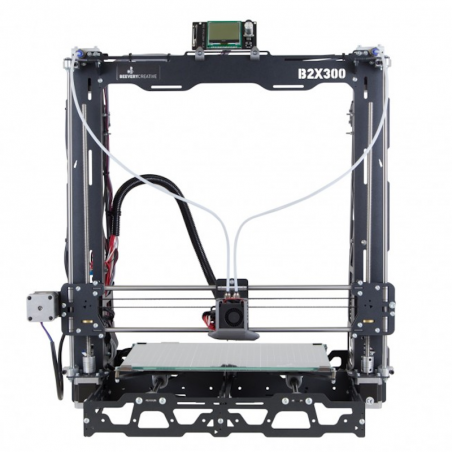  
B2X300 DIY KIT
The B2X300 is a DIY 3D printer KIT with an emphasis on the assembly experience. It comes with a lot of cool features like:
– Dual Extrusion;
– Print volume 300x200x300;
– Power Loss Detection and Recovery;
– Filament End detection;
If you have any questions on this product please feel free to contact us.
*Disclaimer: The images are merely illustrative.
The B2X300 is a DIY 3D printer KIT with an emphasis on the assembly experience. It comes with a lot of cool features like:
– Dual Extrusion;
– Print volume 300x200x300;
– Silent Trinamic Stepper Drivers (TMC2130) with 256 microstepping;
– Power Loss Detection and Recovery;
– Filament End detection;
– Modular Motherboard;
– Print Resolution 50 – 300 microns;
– Auto bed levelling;
– Optimized heated bed;
– Sensorless homing;
– Wide range of materials;
– Easy offset calibration;
– Full Metal Frame.
You can visit the B2X300 website at: www.b2x300.com.
Assembly, User manuals and other resources available here.
Step-by-step video tutorials available here.
Technical Specifications
LAYER RESOLUTION (user defined)  50 – 300 microns
PRINTING TECHNOLOGY  FFF
PRINTING MATERIALS (user-defined) PLA, ABS, PETG, NYLON, Wood Composits, Metal Composits, HIPLA, ABS-PC, HIPS, Carbon Composits
MAX BUILD VOLUME (up to)  300 x 200 x 300 mm (11.81 x 7.87 x 11.81 in)
HEATED BUILD PLATE  Yes (with 4mm removable glass surface)
HEATED BUILD PLATE TEMPERATURE  50ºC (122ºF) – 130ºC (266ºF)
DUAL EXTRUSION  Yes (two hotends)
NOZZLE DIAMETER  0.4mm | 0.4mm (other nozzle diameters available)
EXTRUDERS MAX TEMPERATURE  300ºC (572ºF)
TRINAMIC TMC 2130 DRIVERS Print more silently, especially on stealth mode. Faster printing speeds with reduced vibrations and improved motion precision, without compromising print quality. Up to 256 microsteps.
FILAMENT END DETECTION  Ability to detect absense of filament
MODULAR MOTHERBOARD Allows for future upgrades and customization
SENSORLESS HOMING No limit switches required, thanks to the trinamic drivers
POWER LOSS DETECTION AND RECOVERY Possibility to resume printing after a power loss
EASY OFFSET CALIBRATION  Simple one step method, does not require mutiple test prints
STRUCTURE MATERIALS  High-quality powder-coated steel frame, Steel guides, Removable glass build plate, Full metal dual extruder
PRINTER SIZE 56 x 37.5 x 60 cm (22,04 x 14,76 x 23,62 in)
WEIGHT  12kg (26,45 lb)
AMBIENT OPERATING TEMPERATURE  10ºC-30ºC (50-86ºF)
STORAGE TEMPERATURE  5-35ºC (41º -95º F)
AC INPUT  110-240VAC | 50-60Hz
POWER CONSUMPTION  360W
CONNECTIVITY  SD Card | USB
INCLUDED ACESSORIES EU power cable | USB cable | SD card | Grease
SUPPORTED FILE TYPES  .gcode
AUTO BED LEVELLING  Auto Bed Levelling using a 15-point mesh, interpolated to 45 virtual points
FIRMWARE  Marlin based
ELECTRONICS  MKS Gen
RECOMMENDED 3D PRINTING/ SLICING SOFTWARE  Cura | Slic3r | Simplify 3D
SPEED  Up to 200 mm/s
ASSEMBLY EXPERIENCE  +/- 6 hours
Additional information
| | |
| --- | --- |
| Weight | 12 kg |
| Dimensions | 59 x 62 x 13 cm |
You might also like