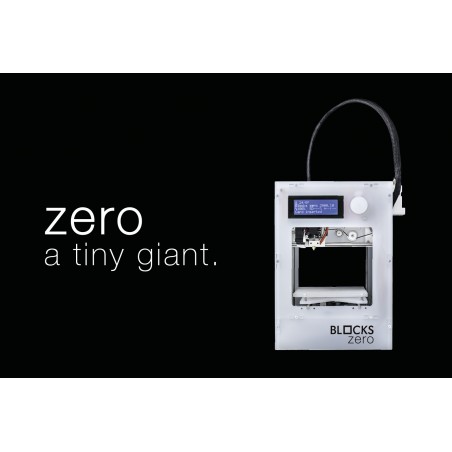  
BLOCKS ZERO 3D Printer
BLOCKS ZERO
WHY WAS IT CREATED
Reliable, transportable and fun. We designed it so you can take it where you need it most.
If you have any questions on this product please feel free to contact us. *Disclaimer: The images are merely illustrative.
To create fun and functional objects with the click of a button, whether it's in your workshop, studio or even in the kitchen you can always count on Blocks Zero to materialize your imagination.
HOW IT PERFORMS
With a recommended print speed of 60 mm per second and a maximum layer resolution of 40 microns, Blocks Zero is fast and precise. It features a print volume of 12 x 14 x 12 cm and the ability to print with all PLA based 1.75 mm filaments including wood, metal and flexible.

Full specs on the datasheet below.
PRINT VOLUME  120x140x120mm
PRINT MATERIALS Open filment 1.75mm
LAYER RESOLUTION Very High: 40 microns   High: 100 microns   Medium: 200 microns   Low: 300 microns
PRINT SPEED  Recommend:  40-60mm/s
HOT END  Nozzle: 0,4 mm    Temperature: 180-255ºC
DIMENSIONS  200x210x300mm
TRAVEL SPEEED  150mm/s
SOFTWARE  Marlin derived firmware   Gcode files   Recommended: Slic3R   Compatible: Cura and others
OS SYSTEMS  Windows, Mac OS X and Linux
CONNECTIVITY  USB Port, SD Card
POWER / HEIGHT 120/220v / 4.8Kg
You might also like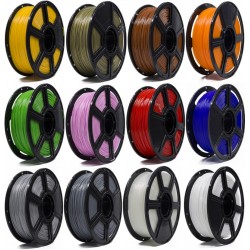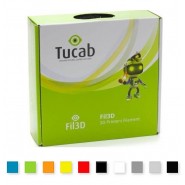 Regular price
€13.62
-€1.63
Price
€11.99