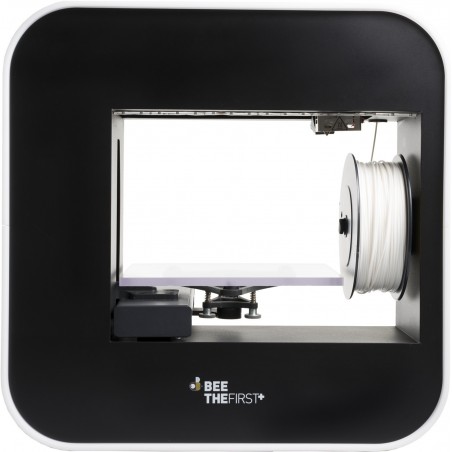  
BEETHEFIRST+ ( plus ) 3D printer
BEETHEFIRST is an easy to use and portable professional 3D printer.
It is ideal for professionals such as architects and designers, and has a single transportable package, chamadoBEEPACK where you can find everything you need.
If you have any questions on this product please feel free to contact us.
*Disclaimer: The images are merely illustrative.
MULTIPLE AWARD WINNING
3D PRINTER
---
 BEETHEFIRST is a professional, easy-to-use and portable 3D printer.
It's ideal for professionals, like architects and designers, and has a unique transportable pack, called BEEPACK, where you can find everything you need.
IT'S ALL ABOUT
RELIABILITY
---
BEETHEFIRST has been on the market since the beginning of 2014 and is
known for its reliability.
More than 750 prints and 5000 hours of Printing without re-calibrating?
Yes, BEETHEFIRST can do it and the users know it!
Click to watch
the product video and the BEEPACK
THE BEST SOLUTION FOR
PROFESSIONAL AND HOME USE.
BEETHEFIRST+ IS EVEN BETTER.
---
Reliability, design, quality output, usability and a new and more
powerful extruder.You can now
3D print some PLA variations.
With the new "power saving mode" and "advanced shutdown",
you can relax and enjoy 3D printing.
Creative environments create as many ideas as they do projects. Choose as many colours as you need to match each of them. BEEVERYCREATIVE has a range of filament to
fulfill any idea!
---
DID YOU KNOW?
If you buy a BEETHEFIRST, a BEETHEFIRST+ or a BEEINSCHOOL, you already have the peace of mind of a two
year warranty (home use). Now, you can extend it for one, two or three more years.
SPECIFICATIONS
---
LAYER RESOLUTION
50 | 100 | 200 | 300 microns
---
PRINTING TECHNOLOGY
FFF
---
PRINTING MATERIAL
PLA, Nylon, Wood, Flexible (ø1.75mm)
from recommended manufacturers
---
PRINTING VOLUME
190 x 135 x 125mm (7.48 x 5.31 x 4.92 in)
---
HEATED BUILD PLATE
No
---
STRUCTURE MATERIALS
High-quality powder-coated steel frame | White acrylic casing with glossy finish | High-grade steel linear guides | Removable polycarbonate build plate
---
PRINTER SIZE (with/without spool)
400 x 140 x 400 mm (15.75 x 5.51 x 15.75 in)
---
WEIGHT
9,5 Kg (21 lb)
---
AMBIENT OPERATING TEMPERATURE
15-35ºC (59-95ºF)
---
STORAGE TEMPERATURE
0-30ºC (32-86ºF)
---
AC INPUT
100-240VAC | 50-60Hz
---
POWER CONSUMPTION
up to 65W
up to 10W on Power Saving Mode
---
CONNECTIVITY
USB cable
---
INCLUDED ACESSORIES
BEEPACK | Spatula | Blue tape | Allen key | One spool of filament | Tweezers | Region-specific power cable |USB cable
---
SUPPORTED OS
Windows (7+) | Linux (12.04+) | Mac OSX (10.8|10.9+)
---
SUPPORTED FILE TYPES
.stl
---
CALIBRATION
Highly stable 3 point semi-automatic w/ Software support
---
MINIMUM HARDWARE REQUIREMENTS (PC)
Core i3 | AMD Phenom 2 |AMD Athlon X2 | 2GB RAM | 500 MB free disk space | 512 MB dedicated graphics card (GPU)
---
MINIMUM HARDWARE REQUIREMENTS (MAC)
late 2008+
---
MAIN IMPROVEMENTS
Advanced shutdown | Power saving mode