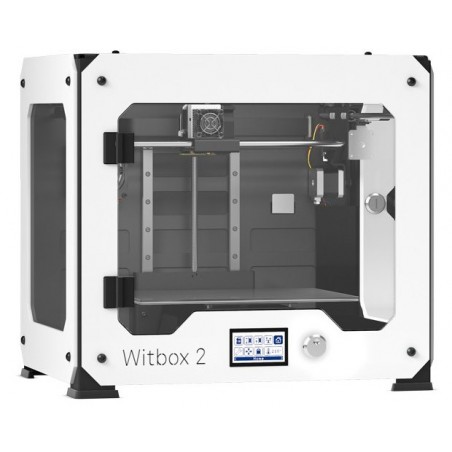  
bq WitBox
Put your ideas into practice with the impressive new printer bq!
Large print on a home printer. DIN A4-size (21 x 29.7 cm) and up to 20 cm high.
Prints figures large size (20 cm) with multiple pieces at once.
Fully enclosed design that prevents accidental access during printing, minimizes noise and prevents the escape of heat.
Front door with locking system which makes it especially secure in environments where there are children.
With printing system inspired by the Fibonacci curve. Thanks to this system, the filament supply pipes are located inside the printer, and not protruding.
Allows you to create a network of printers and stack multiple bq Witbox one on top of the next days.
It has a variable air flow system that cools the plastic faster.
Printing with high resolution and detail level, with layers with an accuracy of 50 microns.
Can be used with open source software.
With CE certification and 24 month warranty, manufactured in Spain.
Dimensions and weight
Product Weight (Kg): 28.0000
Dimensions: Largo Ancho 505 mm 388 mm 450 mm High
Box weight: 28kg
Box Dimensions: 59cm x 47cm x 55cm
Box contents: SD Card 4 GB, 4 support legs, 1 kg of PLA 1.75 mm, 1.8 m USB AB cable, metal-roller door, spare HotEnd, 2 precision needles for cleaning, Allen 4 Keys , 2.5 and 1.5 mm, power cord, printer base, set of two keys, two side panels and a top, printed piece of test, calibration sheet, quick start guide and warranty.
Printing Features
Desktop: Size DIN A4 x 20 cm
Resolution of layers: High: 50 microns, Low: 300 microns, Media: 200 microns
Software
Software: Firmware pre configured Marlin Hosts compatible: Repetier, Pronterface, Healing, ReplicatorG Slic3r (recommended and pre-configured) Skeinforge, Hosts compatible Repetier, Pronterface, Healing, ReplicatorG, Skeinforge, Slic3r (recommended and pre-configured)
Electronics
Electrical system: Power Supply 348W
Connectivity
Connection: SD card reader, USB
Mechanics
General mechanics: Bars in hard chrome for X cars, Y, Z, Base tempered glass A4 *, cable tray Chains Igus, bearings Igus for X, Y, Z, Chassis painted steel powder, Igus Forks for Z axis with flexible motor coupling, moving parts and supports in painted steel powder, printing-based leveling system with 3 points and damping, quick-change print-based system with neodymium magnets
Extruder Measurements: Nozzle 0.4 mm to 1.75 mm filament
Extruder mechanics: the piece cooling nozzle, Extruder with own design
Extruder: Single
You might also like