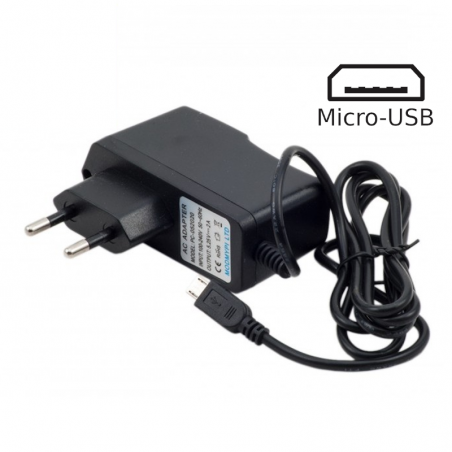  
Power Supply - EU Plug 5V 2A with microUSB conector
If you have any questions on this product please feel free to contact us.
*Disclaimer: The images are merely illustrative.
This 5.0V 2.0A  charger is perfectly suited for use with the Raspberry Pi 3 and all previous models. Tested on multiple Pi's under different loads and conditions, this quality charger delivers a stable voltage to the Pi of 4.95 to 5.15V, which sits nicely withinin the stable range that the Raspberry Pi requires. This charger is the perfect low cost solution to make sure that your Pi doesn't suffer from low power cut-outs, which many low quality chargers can cause.
The Power Supply Features an EU 2 Pin Plug
Features:
Upgraded for use with the Raspberry Pi 3 Model B
Tested for Compatibility with the Raspberry Pi A/A+/B+/1/2/3
Input: 100-240V
Ripple Voltage ~ 100mV
This Compact, energy efficient USB charger has a high 5.0V @ 2.0A output.
Uses 25% less power compared to standard chargers. Please note a lot of chargers do not meet safety standards!
CE approved, and conforms to British Standards.
Materials used to manufacture this charger is environmentally friendly. This charger conforms to RoHs material standards.
Suitable for charging ebooks, ipods, iphones, PSP's, PDA's, digital cameras and mobile phones.
Cable Length 1.2m
Blue LED Power Light
Documentation:
You might also like