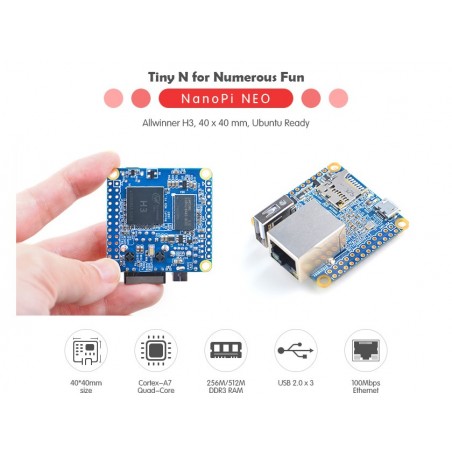  
NanoPi Neo - 512MB QuadCore Allwinner H3 Quadcore A7 1,2ghz
If you have any questions on this product please feel free to contact us.
*Disclaimer: The images are merely illustrative.
The Feature for the NanoPi-NEO Board
The NanoPi NEO is an Allwinner H3 based ARM board designed and released by FriendlyARM for hobbyists, makers and electronic fans. It's Dimension is only 40 x 40 mm, It is open source. It works with Ubuntu MATE, Debian and etc.
The NanoPi NEO uses the Allwinner H3 Soc. It integrates Ethernet. It can be powered via the MicroUSB port
In such a small board it still integrates rich interfaces and ports. Besides the popular Ethernet, USB-Host, USB-OTG, it has an onboard a serial debug port and a 36pin GPIO pin header.
On the NanoPi-NEO wiki FriendlyARM open sources its schematics, PCB, bootloader, kernel and file systems, and provides plenty of tutorials and code samples.
NanoPi Feature
CPU: Allwinner H3, Quad-core Cortex-A7 Up to 1.2GHz
DDR3 RAM: 512MB
Connectivity: 10/100M Ethernet
USB Host: Type-A x 1, 2.54 mm pin x 2
MicroSD Slot x 1
MicroUSB: for data transmission and power input
Debug Serial Port: 4Pin, 2.54 mm pitch pin header
GPIO: 2.54mm pitch 36pin. It includes UART, SPI, I2C, IO etc
PCB Dimension: 40 x 40 mm
Power Supply: DC 5V/2A
OS/Software: u-boot and UbuntuCore
NanoPi Picture
Helpful Project
  Ubuntu-Core with Qt-Embedded

Explore the Linux distribution shipping with Nanopi-NEO. Boot OS from a TF card

 

  

Smart Car

Design a Smart Car with the NanoPi-NEO, Add it later..
SPECIFICATIONS
| Item | Details |
| --- | --- |
| Processor | Allwinner H3, Quad-core Cortex-A7@1.2GHz |
| Memory | 512MB option |
| Storage | 1 x Micro SD Slot |
| USB Host | Type-A x 1, 2.54 mm pin x 2 |
| USB Device | for data transmission and power input, OTG |
| Ethernet | One Ethernet  |
| GPIO | 2.54mm pitch 36pin. It includes UART, SPI, I2C, IO etc |
| Debug Serial Port/UART0 | 4Pin, 2.54mm pitch pin header |
| Power In | 1 x Micro USB for power input |
| Size | 40 x 40mm |
| Weight | 22 g |

Schematics

Dimensional Diagram

H3 Datesheet 

 
You might also like