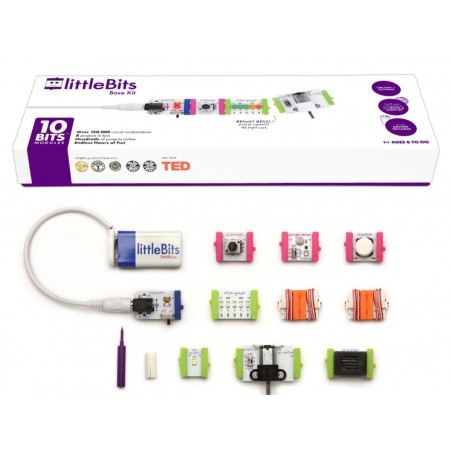  
littleBits Base Kit
Perfect for kids and younger makers
Includes handy project booklet with step-by-step instructions
Requires no soldering, wiring or programming
For ages 8 and up
If you have any questions on this product please feel free to contact us.
*Disclaimer: The images are merely illustrative.
Description
Perfect for kids and younger makers
Includes handy project booklet with step-by-step instructions
Requires no soldering, wiring or programming
For ages 8 and up
The littlebits Base Kit is perfect for kids and younger makers, while not sacrificing the power and flexibility. The Base Kit includes everything you need to start designing and prototyping your own interactive creations, including a 9V battery an attractive, re-usable case and the motorMate which makes it super simple to attach wheels, cardboard and other materials to the DC motor. There's also a handy project booklet, with step-by-step instructions for 8 great projects like the Art Bot and Three Wheeler.
Features
Over 150,000 possible circuit combinations
Kit includes 10 modules including favorites like DC motor, dimmer, light sensor, and more
Create popular projects like a Pizza Box Phonograph, Flashlight, Hand Buzzer, and many more
What's Included
1x DC Motor
1x Buzzer
1x Light Sensor
1x Bargraph
1x Button
1x Dimmer
1x Power
2x Wires
1x Bright Led
Dimensions
Size (mm): 35.6(H) x 99.1(W) x 310.0(D)
Weight: 0.93 lbs (0.42 kg)
You might also like