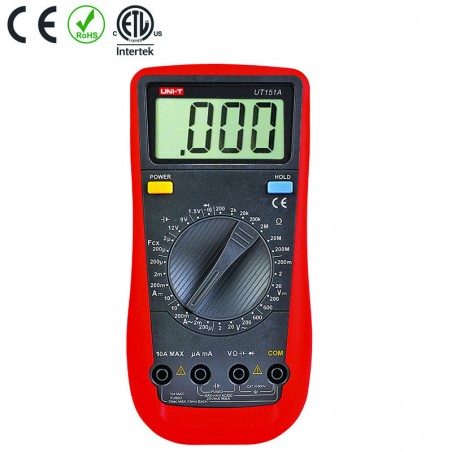  
Multimeter UNI-T UT151A
UNI-T's UT151A is a 30 range digital mutimeter featuring 1.5V, 9V and 12V battery voltage measurement. Full range overload protection is provided.
1. 30 ranges in function selection 
2. Independent capacitance test socket used for measuring plug-in capacitance
3. 1.5V, 9V and 12V battery load test function
4. Data hold
5. Auto power off, low battery indication
6. Complies with CE directives
7. Complies with ETL directives
If you have any questions on this product please feel free to contact us.
*Disclaimer: The images are merely illustrative.
Specifications
Range
UT151A
DC Voltage (V)
200mV/ 2V/ 20V/ 200V/600V
±(0.5%+1)
AC Voltage (V)
2V/ 20V/ 200V/600V
±(0.8%+3)
DC Current (A)
200uA/2mA/ 20mA/ 200mA/ 10A
±(0.8%+1)
AC Current (A)
200uA/2mA/ 200mA/ 10A
±(1%+3)
Resistance (Ω)
200Ω/ 2KΩ/ 20KΩ/ 200KΩ/ 2MΩ/ 20MΩ/200MΩ
±(1%+2)
Capacitance (F)
 2μF/ 200μF
±(4%+3)
>50uF Reference Only
Features
Display Count
 
2000
Manual Range
 
√
Battery Test
12V/9V/1.5V
±(2.5%+2)
Diode
 
√
Auto Power Off
 
√
Continuity Buzzer
 
√
Low Battery Indication
 
√
Data Hold
 
√
Input Impedance for DCV
≥10MΩ
√
General Characteristic 
Power
9V Battery(6F22)
LCD Size
63mm X 29 mm     
Product Color
Red and Grey      
Product Net Weight
300g  
Product Size
186mm X 91mm X39 mm  
Standard Accessories
Battery, Test Lead
Standard Individual Packing
Gift Box, English Manual
You might also like