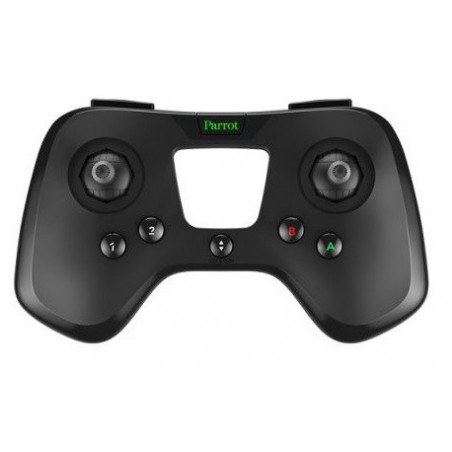  
If you have any questions on this product please feel free to contact us.
*Disclaimer: The images are merely illustrative.
Control your minidrone with a controller
Parrot Flypad was specifically designed for the Parrot steering wheel minidrone range: Swing, Mambo, Airborne Cargo, Airborne Night, and the Hydrofoil hybrid. Use it for precise control over your flights with or without your smartphone. With its mount adaptable to your smartphone, monitor the remaining battery power and flight time on your screen or change the control settings.
Go further!
Still maintaining your flight path, Parrot Flypad enables you to pilot your minidrone over a range of up to 60 metres, or nearly 20 metres further than with your smartphone! The controller connects directly to the drone's Bluetooth signal, thereby optimising the connection quality.
...or with it instead
Once your smartphone is positioned on its adaptable mount, you can monitor your flight information and the remaining battery in real time. Go even further in your flight experience with this very useful addition!
Compatible with the new Parrot Minidrones
The Flypad is compatible with all the 2nd and latest generation Minidrones. Parrot Airborne Cargo, Parrot Airborne Night, Parrot Hydrofoil, Parrot Mambo or Parrot Swing... Wonderful aircraft will fill the skies!
Parrot Flypad
Energy
200 mAh LiPo Battery
6 h autonomy
2 h charging time
Connection
200 ft / 60m range
Stable signal
Automatic and direct connection to your drone
Weight 
Size 
Smartphone optional
Max size: L 6 x W 3 x D 0.4 inches / L 160 x W 78 x D 9.8 mm
Bluetooth control
Bluetooth V4.0 BLE connection
Box content
Parrot Flypad 
Smartphone mount
Câble USB 
Quick start guide
USB Cable