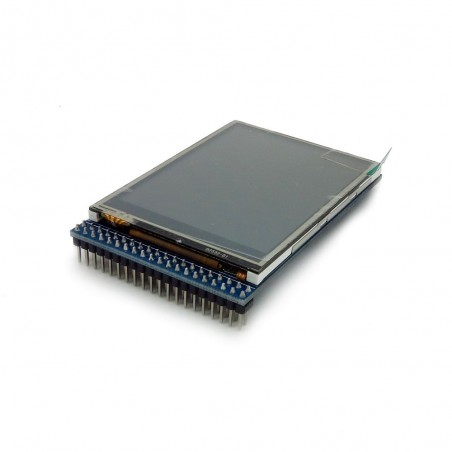  
TFT Touch 2.8" ITDB02-2.8SP
If you have any questions on this product please feel free to contact us.
*Disclaimer: The images are merely illustrative.
ITDB02-2.8 module is 2.8" TFT LCD with 65K color 320 x 240 resolutions. The controller of this LCD module is ILI9325DS, it supports 8bit data interface with 4 wires control interface. Moreover, this module includes the touch screen and SD card socket.
ITDB02-2.8 is supported by UTFT Library.
Hardware
| | | |
| --- | --- | --- |
| Pin | Type* | Description |
| GND | G | Ground |
| VCC | P | 5V Power Supply pin |
| NC | - | No connection |
| RS | I | Data/Command selection |
| WR | I | Write signal enable, low active |
| RD | I | Read signal enable, low active |
| DB8 | I | Data Bus |
| DB9 | I | Data Bus |
| DB10 | I | Data Bus |
| DB11 | I | Data Bus |
| DB12 | I | Data Bus |
| DB13 | I | Data Bus |
| DB14 | I | Data Bus |
| DB15 | I | Data Bus |
| CS | I | Chip Selection,Low level active |
| NC | - | No connection |
| LED | P | Backlight |
| NC | - | No connection |
| DB0 | - | No connection(8bit mode) |
| DB1 | - | No connection(8bit mode) |
| DB2 | - | No connection(8bit mode) |
| DB3 | - | No connection(8bit mode) |
| DB4 | - | No connection(8bit mode) |
| DB5 | - | No connection(8bit mode) |
| DB6 | - | No connection(8bit mode) |
| DB7 | - | No connection(8bit mode) |
| T_CLK | I | Touch clock |
| T_CS | I | Touch chip selection |
| T_DIN | I | Touch data input |
| T_BUSY | O | Touch status |
| T_DOUT | O | Touch data output |
| T_IRQ | O | Touch interrupt |
| SD_SO | O | SD MISO |
| SD_SCK | I | SD SCK |
| SD_SI | I | SD MOSI |
| SD_NSS | I | SD NSS |
| NC | - | No connection |
| NC | - | No connection |
Specification
Model
IM120419009
Display Size
2.8"
Display Resolution
320 * 240
Display Interface
Parallel 8 Bit
Display Controller
HX8352-A
Expand

SD Card Socket
Touch Screen

Board Size
76 x 51mm
Weight
60.00g
Documentos