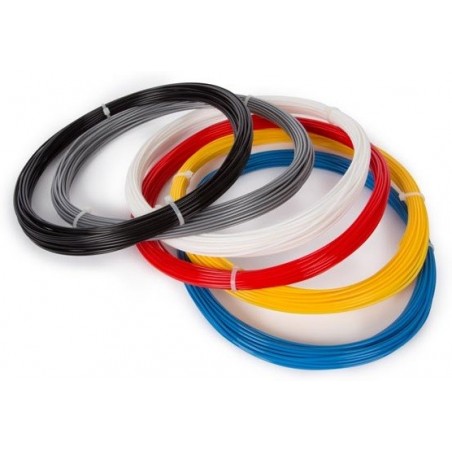  
PLA 1,75mm 6 colors 50grm (K8200, K8400, K8600, 3DPEN,3DPEN2) - VELLEMAN
PLA is a tough, easy to use high grade PLA type of filament, ideal for 3D printing. Slightly modified, the filament retains the typical features of PLA, but makes it tougher and less brittle. Due to a low shrinkage factor PLA will not deform after cooling. Poly Lactic Acid is a biodegradable plastic made from renewable natural resources and one of the most popular materials for 3D printing.
If you have any questions on this product please feel free to contact us.
*Disclaimer: The images are merely illustrative.
O PLA é um tipo de filamento de PLA de alta qualidade, resistente e fácil de usar, ideal para impressão em 3D. Ligeiramente modificado, o filamento mantém as características típicas do PLA, mas torna-se mais resistente e menos quebradiço.

- Mais resistente e menos quebradiço que o PLA normal
- Fácil de imprimir a baixa temperatura
- Pouca deformação
- Biodegradável
- Cheiro limitado

- Tipo: PLA
- Diâmetro: 1.75 mm (1/16")
- Embalagem: de encolher
- Cor: preto, branco, vermelho, prata, azul celeste, amarelo
- Gravidade específica: 1.24 g/cc
- Temperatura de impressão: 180-210 °C
- Resistência ao impacto: 7,5 kJ/m²
- Peso: 6 x 50 g